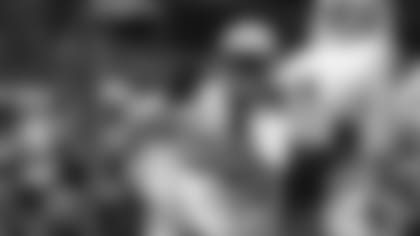 *TE Jermichael Finley caught 61 passes last season, a franchise record for a tight end.

VIEW PHOTO GALLERY

of the team's tight ends. *
The following is the third installment in a series of stories that'll examine the Packers' roster position by position. This installment examines the tight ends.
GREEN BAY—Mike McCarthy's offense is never short on tight ends, and there's no shortage of storylines within that position group heading into training camp.
How will Jermichael Finley perform in a contract year? What impact will Andrew Quarless have after missing all of 2012 due to injury? Which third-year player – D.J. Williams or Ryan Taylor – is ready to emerge, or will both? Will newcomer Matthew Mulligan add a physical presence to the blocking unit? Will young prospects Brandon Bostick and Jake Stoneburner show enough to crack the opening-day roster?
That's seven tight ends in all, and some level of intrigue with each.
It all starts, however, with Finley, who has received nothing but praise from the coaching staff for how he finished 2012 after hitting a midseason lull.
From Weeks 5-9 last season, Finley wasn't fully healthy and caught a total of only 10 passes for 84 yards, an average of just two receptions for 21 yards over a five-game stretch. Following the bye week, though, Finley caught 32 passes for 396 yards, surpassing 50 yards in six of the final seven regular-season games and catching at least five passes in four of seven.
His strong finish carried over to spring workouts, during which Finley appeared to put his health problems (knee in 2010, shoulder in 2012) and the drops that plagued him at times in 2011 even further behind him.
Quarless might have been the tight end who jumped out the most during OTAs, looking more fit and athletic than he did before his late-2011 knee injury that cost him all of last season. Not rushing back to action last year seems to have served Quarless well.
The Packers had their most productive 1-2 punch at tight end in McCarthy's tenure back in 2009, when Finley and Donald Lee combined for 92 receptions, 936 yards and six TDs, plus Finley's monster postseason game in Arizona.
Finley and Quarless might form a similar duo this season, or perhaps it'll be Finley and Williams, another athletic pass-catcher who could help stretch the middle of the field.
A fifth-round draft pick in 2011, Williams was perhaps on the verge of breaking out last year. With Finley less than 100 percent heading into the Houston game in Week 6, McCarthy and the offensive coaches made Williams a big part of the game plan, only to see him injure his hamstring in practice that week and miss his opportunity.
"Talk about terrible timing last year," McCarthy said. "He has big-play ability from the tight end position. He does a good job on special teams and continues to get better. I look for him to take another step."
Taylor is the special-teams standout at the position, developing into a leader on those units and ranking fifth on the team in coverage tackles in each of his first two seasons. The 2011 seventh-round pick's contributions on offense have been minimal, however (one catch each year), and he'll be looking to show more on that side of the ball, especially at such a crowded position.
Known for his blocking ability, Mulligan was signed in the offseason as a potential factor in the offense's revamped rushing attack. Over four previous seasons with the Jets and Rams, Mulligan caught just 14 passes total, so it's no secret the strength of his game is at the line of scrimmage.
Bostick was an undrafted rookie last year who spent his first season on the practice squad, after converting from receiver in college to tight end. He has spoken of his determination to improve his blocking, which will need to show up when the pads go on.
Last but not least is Stoneburner, the lone rookie in the bunch who was signed as an undrafted free agent. A major red-zone threat at Ohio State, Stoneburner had 11 TD receptions over his final two college seasons.