Leading up to the official start of free agency on March 12, packers.com hasbeen examining the league's unrestricted free agents, position by position. In the seventh and final installment, we look at the defensive backs.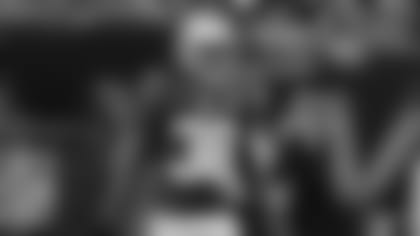 San Francisco 49ers safety Dashon Goldson is the prize of the free-agent defensive backs.
GREEN BAY—Cornerback is the premier position in the secondary, but this year's free-agent market is more
likely to focus, at least initially, on the safety spot.
San Francisco's Dashon Goldson, who unlike Buffalo's Jairus Byrd was not given the franchise tag, is considered the prize of this year's class. A big-hitting member of the reigning NFC champions with nine interceptions over the last two seasons, Goldson is almost sure to command the highest price of any defensive back on the market.
A pair of future Hall of Famers also will be looking for new teams in Baltimore's Ed Reed and Green Bay's Charles Woodson, a
newly converted safety. Both players are past their primes but could be valued for their experience and leadership abilities, while their new teams would hope they each have some big plays left to make.
Interest in Reed and Woodson might be tempered a bit, however, by the large number of younger safeties with starting experience also available. Atlanta took William Moore off the market over the weekend, but teams searching for a more long-term investment at the position could look first at the New York Jets'
LaRon Landry, New England's Patrick Chung, Miami's Chris Clemons, Kansas City's Abram Elam, Houston's Glover Quin, the New York Giants' Kenny Phillips, Minnesota's Jamarca Sanford, St. Louis' Craig Dahl and Detroit's Louis Delmas. Phillips missed time due to a knee injury
last season, while Delmas has dealt with kn
ee injuries the past couple of years.
Young sub-package players who might attract some attention are Denver's David Bruton and San Diego's Corey Lynch.
Other veteran options include the Jets' Yeremiah Bell, Arizona's Adrian Wilson, Pittsburgh's Will Allen, Oakland's Matt Giordano, Dallas' Gerald Sensabaugh, Jacksonville's Dawan Landry and Washington's Madieu Williams, who would be playing for his fourth team in the last four years if the Redskins don't re-sign him. Tampa Bay's Ronde Barber is thought to be either re-signing with the Bucs or retiring. It's worth noting that it took Giordano, who was with the Packers in 2009, eight years and five teams to land a starting job, but he now has seven interceptions over the past two seasons for the Raiders.
Cornerback doesn't appear to have a break-the-bank player like Goldson but, as with safety, there's plenty of starting experience on the market for teams looking to upgrade their base defenses or fortify their sub packages.
At the top of the list could be Cary Williams from Super Bowl champion Baltimore, followed by San Diego's Antoine Cason, Philadelphia's Dominique Rodgers-Cromartie, Carolina's Captain Munnerlyn, Jacksonville's Derek Cox and Pittsburgh's Keenan Lewis. Additional young options are Tampa Bay's E.J. Biggers, Miami's Sean Smith and Indianapolis' Darius Butler.
Several teams have multiple cornerbacks headed for the open market, including two in the NFC North, with Detroit's Chris Houston and Jacob Lacey both available, and Chicago's Zackary Bowman, Kelvin Hayden and D.J. Moore unsigned as of yet. Cincinnati has reportedly expressed interest in keeping Adam Jones and Terence Newman, while Nate Clements could be moving on as well. In addition to Cox, Jacksonville's Rashean Mathis and Aaron Ross are also available.
Other longtime veterans possibly going elsewhere include Seattle's Marcus Trufant, San Diego's Quentin Jammer, Oakland's Joselio Hanson, Cleveland's Sheldon Brown and Carolina's Chris Gamble, who is coming off a major shoulder injury.
Finally, there's an intriguing group of still-young corners who have potential upside combined with some red flags. New England's Aqib Talib may have gotten a new lease on his career after being traded from Tampa Bay, the same type of second chance Dallas' Mike Jenkins could be looking for. Meanwhile, Indianapolis' Jerraud Powers (turf toe), Atlanta's Brent Grimes (Achilles) and Denver's Tracy Porter (concussion), the former New Orleans Super Bowl hero, lost large chunks of last season to injuries.