CANTON, Ohio—His wait only made his moment of glory sweeter.
"I finally made it. I'm here forever," Dave Robinson told the crowd at Fawcett Stadium on Saturday night, as Robinson became the 12th member of the Packers' teams of the 1960s to be enshrined in the Professional Football Hall of Fame.
"The closest thing a football player can get to immortality," Robinson said of joining 279 other enshrines. "You're immortalized in the Hall of Fame."
Master of Ceremonies Chris Berman introduced Robinson at the start of the night by saying: "This celebration is long, long, long overdue."
Robinson was elected to the Hall of Fame on a Senior Committee ballot. Senior Committee member Rick Gosselin of the Dallas Morning News told packers.com on Friday that Robinson's candidacy had never made it to the final round of voting, which Gosselin felt was an injustice that needed to be rectified for a player that was a member of the 1960s all-decade team.
"We missed Dave Robinson; let's put him in there," Robinson said of the sentiment that led to his election. "This is the biggest day of the 21st century for the Robinson family."
Robinson delivered a distinguished, sometimes edgy, sometimes humorous acceptance speech. He was presented for induction by his son, Dave.
"I was raised on a farm in South Jersey and I was one of nine children. I remember my first store-bought suit. Everything else was hand-me-downs," Robinson said, as he began tracing the path that took him from New Jersey to Green Bay to the Hall of Fame.
"They directed me toward Penn State," he said of his high school coaches. "There I met the legendary Joe Paterno and Rip Engle. They taught me a lot about football. They took a diamond in the rough and turned me into a football player. I would say thank you very much.
"I've been blessed to be a football player all my life," Robinson said. "Football is a Spartan game played in a Spartan-like manner. You have to like to hit and like to get hit. You have to like the taste of blood."
At 6-3, 245, Robinson was a rare combination of size, speed and athletic ability for the era in which he played. He became the new prototype at the position and his talent has been compared to Lawrence Taylor's. Robinson intercepted 27 passes in his career, at a time when outside linebackers were pass-defenders, not blitzers.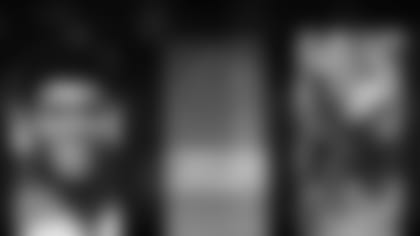 "I came to Green Bay in 1963, the same year the Hall of Fame (opened). I feel the NFL is the greatest sports entity in the world. Nothing tops the NFL," Robinson said.
He spoke of his former coaches, led by his coach in Green Bay, Vince Lombardi.
"I hope they're looking down on me. There are a lot of people looking down up there, and some of my friends might be looking up," Robinson said, drawing a laugh. "I never dreamt in high school of coming to the Hall of Fame. There was no Hall of Fame.
"Vince Lombardi thought the Hall of Fame was the greatest thing that ever happened to football. He's right. It is."
Robinson joins defensive end Willie Davis and cornerback Herb Adderley in the Hall of Fame. That trio formed what they have dubbed, "Lombardi's left side."
"The Green Bay Packers organization is one of the greatest in the world. Everybody is dedicated to football. To everybody in Packerland, I say thank you for putting me where I am. Without you, I wouldn't be up here," Robinson said.
"You gotta come to Lambeau Field to see the real fans. Our fans own the team. Now top that."
Robinson played in Green Bay for 10 seasons, before finishing his career with two seasons in Washington. He was selected by the Packers in the first round of the 1963 draft and he is most famous for his game-winning play in the Packers' 1966 NFL title game win over the Cowboys.