The regular writer of "Ask Vic," packers.com Editor Vic Ketchman, is on vacation. Staff Writer Mike Spofford is temporarily filling in to answer your "Ask Vic" questions. Vic will resume writing his daily column on Monday, Feb. 10.
Super Bowl? More like Snoozer Bowl. I gotta say that I was pretty disappointed with this game and I was hoping it would be at least a bit more competitive than what it was. Sure I'll give credit where credit is due and congratulate Seattle for their hard work, but I am pretty disappointed with the complete failure on the part of Denver. It's like as though the Broncos didn't show up to the game and it showed on the first play of the game too.
No doubt that was disappointing from a competitive standpoint. Denver's offensive line just got whipped in every way, and Manning's usual mastery at the line of scrimmage was rendered moot with his team so far behind. There aren't a lot of checks and audibles to make when you're down 29-0 the first time you touch the ball in the third quarter. Congrats to the Seahawks and former Packers personnel man John Schneider, born and raised in the Green Bay area.
After this game, anybody who says Green Bay is a contender simply because of Rodgers is a fool. The most prolific offense ever just got destroyed by a great defense. This team will win nothing of importance until they get their defense in order. What will it take for this organization to understand this?
Several of you shared similar sentiments, and the "defense wins championships" mantra will once again be back en vogue. I'm very curious to see how the league as a whole reacts to this, as many of you are, judging by Vic's inbox. As for the Packers, yes, they have work to do, but don't assume they're blind to it. The draft resources spent on defense in recent years have been considerable, but there have been too many misses and not enough payoff. Criticize the Packers if you want for failure in building the defense they need, but don't criticize them for ignorance or a lack of effort. Every team would love to have Seattle's defense, but I don't think there's been one quite this good since the 2000 Ravens. That's 13 seasons ago.
Hey Mike, in the past when Vic has gone on vacation, I've asked you if you think he still reads this to kinda keep tabs on you and make sure you're not letting it get too out of hand (which, by the way, you always do a great job of keeping it going in Vic's absence), and I believe you said he most likely checks it now and then. I was wondering do you think he writes in with an alias so he can be the crazy fan for once and have someone else have to deal with answering the questions? He seems like he has a good sense of humor and would do something like that.
Vic might stop for a second to think about that, but the Vic I know would put his own name on anything he writes. That doesn't mean he won't send in some crazy question, though.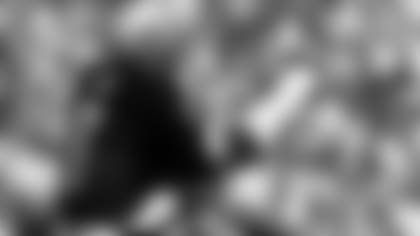 Former Oakland P Ray Guy
Jeffrey from Republic, MO
Ray Guy is in the Hall of Fame! Is it just a coincidence that Vic is on vacation, so he doesn't have to deal with this?
This news is sure to throw off his golf game this week. Many of you chimed in about this, and I don't want to speak for Vic, so you'll have to get his take when he gets back. I don't have a problem with a punter being in the Hall of Fame. I think the Hall is for the players who were the best in their era at their positions, which is different from Vic's view. I do think it's unfortunate Kevin Greene once again did not get in after being a finalist for the third straight year. I believe with Michael Strahan getting in that four of the top five on the all-time sack list are now in, and the one who isn't is Greene, who's third on the list.
Patrick from New York, NY
I was touched that Rodgers began his remarks at the "NFL Honors" ceremony by thanking the fans. We didn't do any of the work on that play, but all of us out there pouring our passion and money into this franchise is what provides his livelihood. Thank you, Aaron.
I thought that was pretty classy of Rodgers to do, especially considering all the unwarranted ripping and grief he took from fans for not playing with the broken collarbone, when it wasn't his decision to make.
Eddie Lacy winning the Offensive Rookie of the Year award makes me feel that the Packers are headed in a new direction involving both a high-powered and hard-nosed offense. If we can shore up the defense, we have the championship-worthy team that us fans expect. I'm excited to see what this draft brings.
Be careful with what you "expect." It leads to a sense of entitlement, and that only magnifies frustration in the end. That said, the Packers changed their running game from an afterthought to a consistent, legitimate threat in one year. The defense is next, but the timeline remains to be seen.
I know it's tradition, but is there any chance of ever losing the Roman numerals for the Super Bowl? Few people seem to be able to read them these days. Personally, I could see them stopping at 49, and swapping over for 50. Seems silly to have a Super Bowl L shirt to me. We are lucky the internet wasn't widely used for Super Bowl XXX. What say you?
Hadn't thought about the Super Bowl "decade" of the 30s and the internet age, but you wonder if that would have prompted the NFL to drop the Roman numerals. I was having the exact same conversation about L/50 with a co-worker at lunch on Friday. I don't know if the league will ever change to Arabic numerals, but if it doesn't switch at 50, it probably never will.
Steve from St. Charles, MO
Mike, there have been a lot of rule changes over the years. Many have been in the name of player safety, with which I have no problem. But rule changes solely to add "excitement" like the elimination of the bump-and-run and the proposed extra point elimination erode the basics of the game. What type of rule changes are you okay with and what types do you think change the game's essence?
I realize player safety is paramount, but I have a problem with these "defenseless player" rules and the like that ask the officials to legislate very tough calls at full speed while also being required to see whether the ball hits the ground or a player's feet stay in bounds. It's getting ludicrous, and I said so multiple times in my mid-week chat this past season. And I don't think the answer is to turn everything over to replay. I've suggested before that maybe we need two sets of officials – one to call the game and the other to regulate player safety. Call me crazy with that one, but I think what they're asking the current officials to do is nearly impossible, and the missed/botched calls on helmet hits, etc., are affecting the outcomes of games.
Daniel from Fond du Lac, WI
After reading the end of season review Dope Sheet, I noticed that in terms of success over the last 3-5 years only the New England Patriots are consistently mentioned as ahead or tied for best over that span. That's pretty exclusive company yet other Ask Vic(ers) are frustrated with the lack of success the Pack has had under Mike and Ted. Can you think of another era where the Packers have been this successful?
How old are you, Daniel? The Packers posted 11 regular-season wins or more in four straight years from 1995-98, going to three NFC title games and two Super Bowls in that span. The franchise also won five NFL championships in a span of seven years in the 1960s, of course. By the way, if you're really into statistical nuggets, you can bury yourself for hours in the Dope Sheet. It's the work of Tom Fanning in the team's PR department and it's chock full of numbers, charts, etc., if you're into that sort of thing.
Mike: Can you clarify this concept of rolling over unused cap money? I thought the CBA required teams to spend (nearly) 100 percent of the cap, both in order to ensure the players get their negotiated share and to avoid a Florida Marlins situation of just taking profit while putting an inferior product on the field.
Spending minimums kicked back in for 2013, so there's only so much cap room a team can carry over now. If they wanted to, teams could carry over considerable sums the first two years of the new CBA before the spending minimums came back.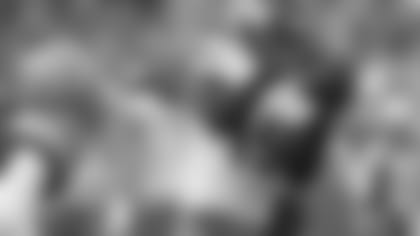 Vikings WR Greg Jennings
Fabrizio from Fossano, Italy
Hi Mike, when a player is lost in free-agency, who and how decides if the team receives a compensatory pick?
The NFL has a complicated and top-secret formula that determines each team's compensatory picks, if any, based on their free-agent gains and losses from the previous year. To answer a similar question from Justin from St. Louis, MO, the compensatory picks are normally announced at the owners' meetings in March. They can be anywhere from third- to seventh-rounders (end of round in each case) and cannot be traded. All I've been able to determine from past years is that the size of the contracts signed factors heavily into the formula, which means given the deals Greg Jennings and Erik Walden received (from the Vikings and Colts, respectively) while the Packers signed no one, either two decent picks like a fourth and a sixth, or one higher pick (end of the third?) should be coming Green Bay's way. But the formula always has been, and will remain, a mystery.
First the Lions, and now the Patriots, have announced variable ticket pricing. Preseason games will cost less and marquee games will cost more. For instance, the cheapest Pats ticket will be $95, "regular" games will be $195, and marquee games will be $245. Why don't more teams do this? It happens in baseball all the time, why are teams so hesitant to do this type of thing?
I don't know, but I think it's going to become more common. Preseason tickets carrying the same face value as regular-season tickets is a travesty. Before "variable pricing" had a name, I always wondered why NFL teams didn't just use simple math to make the pricing of preseason vs. regular-season tickets fair while still collecting the same overall amount at the gate. It's 10 games, two preseason, eight regular season. You slash the preseason tickets by 40 percent apiece, raise the regular-season ones by 10 percent each, and it all comes out even. But nobody ever asked me.
If they're going to change the kicking game, how does this sound to you. Since a field goal is usually the result of the offense's inability to score a TD, base a field goal's points on the length of the kick, but make long ones worth one point, medium worth two and short ones worth three. Think about what that would do on fourth down when the coach could only get one point. Could easily add more excitement and anxiety to the game and force more tries on fourth down. Why reward the offense if they cannot move the ball downfield? Just sayin'.
I'm not normally in favor of any change that seems too radical – and I don't classify eliminating the one-point PAT as radical – but your thoughts made me pause. I'll think about it some more, but I'm still inclined to say that goes too far.
I know the Lions have the better roster and if any team would be more dangerous with better coaching, it's Detroit, but ... I look at Caldwell and I look at Zimmer and who Zimmer has installed already and the seriousness Minnesota has shown in choosing this head coach, all I can say is between the Lions and the Vikings, I'm now most worried about Minnesota in the NFC North in 2014 and beyond. C'mon, I bet you agree.
As soon as the Vikings fix their quarterback situation, they are poised to take off. The Lions need Caldwell to refine Stafford a bit and keep working on their secondary, and they're right there, too. The Bears must rebuild their defense but have an offense more explosive than they've had in long, long time. Nobody is really that far away in the NFC North.
David from Rancho Cucamonga, CA
Mike, aside from their divisional home games Seattle will also host Denver, Dallas, Oakland, the N.Y. Giants and Green Bay next year. Any chance we see a rematch of the "Fail Mary" to kick off the 2014 NFL season?
A large number of you asked about this, and I think it's a distinct possibility. Considering the final score last night, I don't think the league would put a Super Bowl rematch with Denver in the kickoff game. The other strong possibility is San Francisco, which would be a division rival and a rematch of the NFC title game. I say it's probably San Francisco or Green Bay, and if it's SF, I'd look for Packers-Seahawks on a Monday night, because the "Fail Mary" game was on a Monday night.
Since the Badgers are going to play at Lambeau, are we ever going to see the Packers at Camp Randall? How about a preseason game?
That used to happen regularly. The Packers played a preseason game in Madison every year from 1986-95, and then again in 1997 and '99, but haven't since. I'm not aware of any plans to revisit Camp Randall.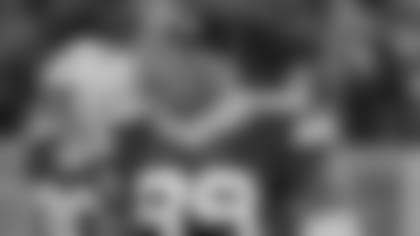 DE Jerel Worthy
Mike, what kind of impact do you expect from Jerel Worthy next year? Do Worthy, Jones and Daniels have enough combined size to make up a starting defensive line?
I expect Worthy to come into the season ready to prove something, so let's see if he does. As for that trio as the base three-man line, no, because none of the three is a nose tackle. Daniels maybe, but that's a really big maybe at his size. I'm curious to see if the coaches try Josh Boyd at the nose next season. I do think Jones' development and Daniels' push to go from pass-rusher to every-down defender could be key for this defense in 2014.
Mike: Often a player is drafted (Micah Hyde comes to mind), and it is said that he eventually will be moved to safety. Why wait?
Because if you want to get any immediate impact out of a player, it's usually best to keep him at his college position at first. Learning the playbook is enough for a rookie. Learning a new position on top of that essentially redshirts him, and it can be tough to hold a spot on the 53-man roster for a redshirt. Moreover, if you want that player on the practice squad, he has to clear waivers first and is always available to be signed by another team. I posted a feature story on Hyde last Friday, and I found it very interesting that CB coach Joe Whitt Jr. said without hesitation that Hyde's skill set fits safety, and that the slot corners in the nickel and dime are asked to do a lot of the same things safeties are in this defense.
Mike, Vic believes the Packers will be in a Super Bowl over the next 3-4 years. Do you agree?
I believe Green Bay's chances are as good as anybody's with Aaron Rodgers at quarterback, and with improvement on defense, but as I noted last week, I subscribe to the "crapshoot" theory of the postseason, and you just never know what's going to happen, so it's a fool's errand to try to predict it. In 2010, if Michael Vick gets a little more air under that ball to Riley Cooper, Tramon Williams might not be able to pick it off and the Packers' title run is over before it started. The following year, an offense that set practically every record and turned the ball over only 14 times in 16 games suddenly turned it over four times in a playoff contest. Get to the playoffs and roll the dice. That's the current NFL.
Not to shovel dirt on Vic just yet, but when the time comes how about calling it "Open Mike"?
Not bad. That was without a doubt the most common suggestion, coming from dozens of readers. I'll take it under consideration. Several were on a similar wavelength with "At the Mike," "Step up to the Mike," and "Mike'd Up!" (special shout-out on that one to Jonathan from my hometown of Platteville, WI). Maybe "Mike Unplugged"? Among the many ideas submitted, I've also thought about "Mike's Mail" or "Mike's Mailbag," suggested by Brian from Rockford, IL, Nathaniel from Pittsford, NY, and Michael from Wauwatosa, WI. The ultimate homage, according to Bryce from New Berlin, WI, and Lee from Hong Kong, would be not to retire "Ask" but keep it out of respect and live up to the legacy. Hmmm. Thanks for all the input, but as Bob said, we're not shoveling dirt on Vic just yet. I think he still has a few good years left he'd like to entertain y'all (and/or have you entertain him).
Someday we'll tell our grandchildren of the time we witnessed the worst Super Bowl in NFL history.
There have been plenty just as bad. It had just been a while (Tampa Bay vs. Oakland?) since the last one. The Super Bowl had been on a great run of dramatic games. The question with this one is how the league reacts to the way Seattle plays defense. In the interests of time, I need to wrap up the column for today, but I will hit on more Super Bowl thoughts tomorrow and Wednesday. Thanks for your patience.