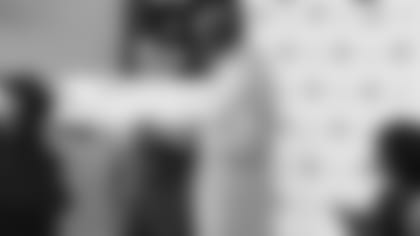 Green Bay Mayor Jim Schmitt (left) announced that Donald Driver would get a city street named after him at Driver's retirement ceremony on Feb. 6.
GREEN BAY—The public got to say goodbye to Donald Driver at his retirement ceremony in February, but he'll be back in Green Bay for a quick hello on Saturday.
The Packers' all-time leader in receptions and receiving yards will be on hand for the unveiling of the new "Donald Driver Way" street sign and refurbished receiver statue in front of Titletown Brewing Co. at 2:30 p.m. CT on Saturday.
The event, which will take place at the corner of what is currently Pearl and Dousman streets, is open to the public.
At Driver's retirement ceremony at the Lambeau Field Atrium back on Feb. 6, Green Bay Mayor Jim Schmitt announced that the famous receiver statue, which used to reside in front of the old Packers Hall of Fame and is now in front of the downtown Titletown Brewing Co. restaurant, would be refurbished with Driver's No. 80 jersey. Schmitt also announced the street leading to the statue and restaurant would be renamed "Donald Driver Way."
The work on the statue is now complete, and the change of the street name will be made official on Saturday.
In a statement included in a press release from the mayor's office, Driver expressed how humbled he is by the honors.
"It's crazy to think," he said. "I went from living on the street as a kid to now having my own street."
Mayor Schmitt noted the special recognition for Driver is to honor his impact both on and off the field during his 14-year career. In addition to setting the Packers' receiving records and winning a "Dancing With The Stars" title, Driver was awarded the "Community Service Award" by the Green Bay Chamber of Commerce in 2001, the team's Walter Payton Man of the Year award in 2002, the Red Smith Award in 2010 and the AMVETS Humanitarian of the Year Award in 2013.
After the unveiling, The Noble Bros band will provide musical entertainment, performing a special lyric written for Driver.