GREEN BAY—Catching passes for 14 seasons with the Green Bay Packers, Donald Driver never stopped thanking the fans.
Getting a street named after him and having a statue unveiled in his honor, Driver didn't stop on Saturday, either.
"It's not my street sign, it's your street sign," Driver said to the several hundred folks who crowded into the Titletown Brewing Co. parking lot in downtown Green Bay to see their hero once again. They didn't seem the least bit bothered by the fact that he arrived nearly 45 minutes late.
"To have a statue that has my name on the back of it, it has nothing to do with me, it has everything to do with you. Because you all have put me on a pedestal that I would have never thought to be standing on."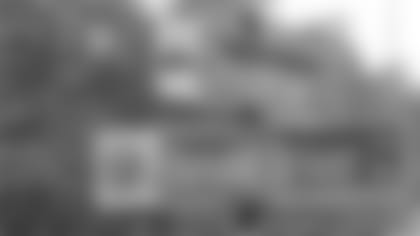 Pearl Street at the intersection with Dousman Street became Donald Driver Way on Saturday -

SEE PHOTOS
Green Bay Mayor Jim Schmitt presided over the festivities, with Pearl Street at the intersection with Dousman Street becoming Donald Driver Way. The famous receiver statue, which is now in front of Titletown Brewing but was originally dedicated 28 years and one week ago in front of the old Packers Hall of Fame across the street from Lambeau Field, was also refurbished and unveiled in Driver's likeness, with a No. 80 jersey and Driver's usual black-and-white receiver gloves securing the ball.
Naming a street after Driver was a thought of Schmitt's nearly a decade ago, when he began to appear with Driver at what became hundreds of community functions. Upon Driver's retirement this past winter, Schmitt said he brought it up with Driver again, who said it was "not necessary," but the mayor continued to pursue the idea.
Schmitt said he considered a street in the stadium district but chose the downtown locale, and not just due to the statue's presence.
"Donald, you're more than football to this community," Schmitt said of the player who caught more passes for more yards than any receiver in team history. "You deserve your own area, with something very special, and here we are."
It's fitting that at the end of Donald Driver Way is the New Community Shelter, a local non-profit organization that Driver and his foundation supported during his career.
Terri Refsguard, executive director of the shelter, shared a story about a donation Driver had made at one time. A replica check was blown up and hung on the wall in the shelter's dining room as the residents dealing with homelessness and hunger ate their evening meal.
"That night they felt extra special, and it's all because Green Bay Packer number 80 cared about them," Refsguard said. "He's a man whose heart is as sincere and warm as his great smile."
That smile nearly turned to tears as Driver took the podium after the street sign and statue were unveiled, and he could only begin by saying, "Wow. This is truly an honor."
Composing himself, as he did at his retirement ceremony in February, Driver gave special thanks to former Packers GM Ron Wolf, who drafted him in the seventh round in 1999. This time, Wolf was in attendance and was able to stand and wave to the crowd, at which point Driver announced that when he's inducted into the Packers Hall of Fame – a certainty as soon as he's eligible – Wolf would introduce him at the induction ceremony.
"In 1999, I remember Ron pulling me up to his office and he said, 'Hey, kid, I have everything riding on you,'" Driver said. "And I told Ron, 'If you give me an opportunity, I will never let you down.'"
The only disappointment for the fans was that Driver couldn't stay longer, as he was off to another dedication at the local children's museum. His annual charity softball game was coming up Sunday as well.
Either the community can't get enough of Driver, or Driver can't get enough of the community. Probably both.
"I have to get down before I start crying again," he said. "Thank you all, and I love you all truly."