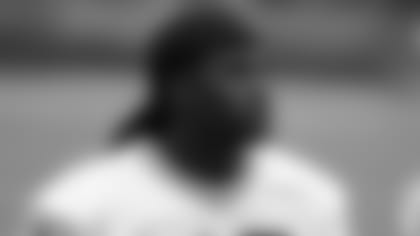 RB DuJuan Harris
GREEN BAY—Mike McCarthy considers him the Packers' starting running back, and DuJuan Harris has every intention of living up to that billing.
"If he believes in me, I'll believe in myself also," Harris said on Monday, his first day back on the practice field after missing the first two weeks of training camp with a knee injury.
"I'm not going to let him down."
Harris was very limited in practice, and he'll likely continue to ease his way back when the players are back in pads on Tuesday. As far as whether Harris will get his first preseason action this weekend in St. Louis, McCarthy only said he'd be evaluated as the week goes on.
The head coach was very complimentary of the attitude and approach he has seen from Harris since the Packers brought him in at midseason last year, and that kind of praise in these circumstances can mean a couple of things.
For one, it sounds as though Harris, who rushed for 257 yards and four TDs over the final four regular-season and two playoff games last season, will be as much a part of the offense's renewed commitment to the running game as any of the offseason additions. One of those additions, second-round draft pick Eddie Lacy, remained out of practice with a hamstring injury.
Second, it's clear McCarthy expects to see the same highly motivated Harris this year that he saw last year, after the undrafted, 5-foot-8 running back was cut by Jacksonville and selling used cars.
"Entitlement is abundant sometimes when you're dealing with some of these guys coming into our league from college, and when you see a young man like DuJuan Harris, it's refreshing to see how motivated he is," McCarthy said. "He's not the tallest guy in the world, and I'm sure that's why from a personnel evaluation standpoint he was passed over, but the young man is a damn good football player."
Harris downplayed the notion that his route to the NFL gives him a different attitude, but he did appreciate getting back on the field with his teammates after so much time away. Harris missed a large portion of OTAs after having a cyst removed from near his lung, and then the "tweak" (as he called it) in his knee kept him out longer than planned.
"It's a great honor to help lead this team," he said. "I'm back and I have to get back in a groove."
Young players who performed well in the preseason opener against Arizona saw their practice reps increased on Monday.
Those players included two rookies in receiver Tyrone Walker and cornerback Micah Hyde.
Walker has taken advantage of all the injuries at receiver to begin taking snaps with the No. 1 offense, and he followed up his five-catch night last Friday with a few more catches in team drills.
"He's got strong hands, he's a quick little dude, he's got some nastiness to him. He's not going to let anybody push him around," veteran receiver James Jones said of Walker, who is listed at 5-10, 191. "He's not 4.3 but he's fast enough to get behind you. He just plays with a lot of confidence.
"He comes back to the ball, sticks his hands out, catches the ball well. I'm excited to see how he's going to perform on Saturday again. One game doesn't define you."
One play certainly doesn't define Hyde, who was beaten on a back-shoulder throw at the goal line for a TD by the Cardinals but who also showed he's a willing tackler at the line and downfield.
Hyde said he got a lot of positive and negative feedback from the coaches for his performance, but there must have been more positive, because he replaced Davon House as the corner with the No. 1 defense in practice on Monday.
"I felt I did some good things, but I also made some mistakes," he said. "Hopefully I learn from the mistakes and don't make them again."
It's a good bet the next time a receiver runs a fade or back-shoulder route on him, Hyde won't let it be such an easy catch. He was shaded to the inside to take away the slant, as he's taught, but he didn't react aggressively enough when the ball was thrown to the outside.
"I just have to compete a little harder and next time get it out," he said. "It's one of those plays when it's a good ball, it's hard for the corner to get to it.
"I have to compete." Additional coverage - Aug. 12
Blog:

Datone Jones

![](/team/roster/datone-jones/60e4b70d-1868-4763-ad8a-8b57412cde1f/ "Datone Jones")' one snap was impressive, plus other news & notes