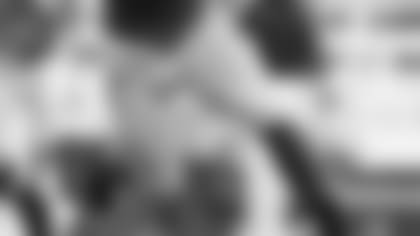 UCLA running back Johnathan Franklin
GREEN BAY—The sure thing isn't there, but there's enough talent to tempt teams in need of a running back.
"Overall, it's a very questionable class, to say the least, but there's good variety," draft guru Tony Pauline said of the 2012 NFL Draft class of running back prospects.
The consensus top pick is Alabama's Eddie Lacy, 5-11, 231, who was veritably unstoppable in the Crimson Tide's run to the national championship. Lacy is a "downhill, between-the-tackles runner. He's not going to turn the corner but he's a grinder who'll get the ball deep into the fourth quarter," Pauline said.
Yes, the Packers would seem to have need for that type of back, and Lacy is a player who is thought to fit near the bottom of the first round. He is thought to be the only first-round prospect in this running back class.
North Carolina's Giovanni Bernard might be the group's most talented player, but injury concerns have held his stock down.
"Bernard is just the opposite (from Lacy)," Pauline said. "(Bernard) can turn the corner. He's a game-changing impact player, a tremendous pass catcher, but he's small and he has an injury history."
Wisconsin's Montee Ball is beginning to move up boards on the strength of his durability and overall talents, but Pauline thinks durability could be another word for overworked.
"Montee Ball is a little bit of both (Lacy and Bernard), when he wants to be. He has some decent short area quickness, but he's coming off a disappointing senior season and he's got a lot of miles on him. He's carried the ball more than 900 times in college, in a power running offense," Pauline said.
Texas A&M's Christine Michael will attract teams looking for an inside runner.
"Michael is another big, downhill runner. He also shows the ability to make defenders miss and better-than-average skills for turning the corner for a big back. He had a disappointing senior season and fell into the coach's doghouse. Then there's the thing about him falling asleep in meetings at the combine," Pauline said of Michael.
All of the aforementioned backs are thought to be second or third-round prospects.
One back that was on the rise following a sensational Senior Bowl, Stanford's Stepfan Taylor, likely has fallen following a poor combine workout.
"Taylor and Leaven Bell are big, strong, interior, downhill runners for a ball-control offense," Pauline said.
Bell, 6-2, 230, from Michigan State has strong measurable, but tends to run a bit upright in the tackle box.
UCLA's Johnathan Franklin, 5-10, 205, is the fastest-rising back on the board. He followed a strong Senior Bowl by posting positive workout numbers and he might have pushed himself into the second round.
"Complete ball carrier," Pauline said of Franklin. "Can pick and choose his spots on the inside. A lot of people have compared him to Frank Gore. The problem is he's 205 pounds and you don't know if he's going to be able to take a pounding on the next level."
The best of the third-down backs would include Kerwynn Williams of Utah State, Jawan Jamison of Rutgers and Kenjon Barner of Oregon. They're all 5-9 or shorter.
"They're all creative, elusive ball carriers. They're not heavy duty feature backs but can be used as pass catchers and third-down backs," Pauline said.
Other top prospects include Oklahoma State's Joseph Randle, Clemson's Andre Ellington, Florida's Mike Gillislee and Notre Dame's Theo Riddick.
This draft also includes two backs coming off significant knee injuries. South Carolina's Marcus Lattimore was one of college football's best players when he sustained a Willis McGahee type of knee injury. He hopes to be drafted as a "future," as rehab will likely cost him his rookie season.
Pitt's Ray Graham was one of college football's most productive rushers when he sustained a devastating ACL injury midway through the 2011 season. He limped through much of last season, but was the best player on the field in a near upset of Notre Dame late last season. Graham has been compared favorably to former Pitt star LeSean McCoy. Additional coverage