GREEN BAY—Many first-time Pro Bowlers upon arrival in Hawaii are inclined to explore the crashing waves of the Pacific, either via a boat excursion or surfboard.
Not Packers running back Eddie Lacy.
"Oh, no. I'm not messing with that ocean," Lacy said in a brief phone interview this week with packers.com. "I like the view from my balcony. That's as close as I need to get to that.
"I'll get in the pool … if it's under six feet."
Lacy's apparent fear of deep waters aside, he's been enjoying his time at the Pro Bowl with his parents and older brother.
One of just four rookies among the 88 players on the two Pro Bowl rosters, Lacy joins fellow NFC North standouts in Chicago guard Kyle Long and Minnesota return specialist Cordarrelle Patterson as the youngest of the league's all-stars. The other rookie is San Francisco safety Eric Reid.
The week's activities began on Wednesday with a Play 60 event for Special Olympics kids, followed by the first-ever Pro Bowl draft, captained by Hall of Famers Deion Sanders and Jerry Rice.
Lacy was picked as one of three running backs for Team Sanders, along with Kansas City's Jamaal Charles and Washington's Alfred Morris. To Lacy and most of the players, the draft was a flashback to the childhood sandlot days when sides were chosen up on the fly.
"That's definitely how it was," Lacy said. "It was like a bunch of talented guys go out to the playground, and you have two of the best guys and they're picking their team. You want to get picked, and it's nothing personal, but you want to be one of the guys picked in the top 10."
Lacy said he's been hanging out a bit with Charles, but the two haven't talked ball-carrying secrets yet. He plans to pick Charles' brain a bit on Sunday, right before the game when players put at least a semi-game face on.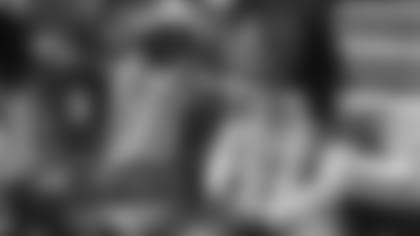 Left of Eddie Lacy is Bears CB Tim Jennings
Otherwise, the week has been pretty relaxed for Lacy, with brief walk-through practices on Thursday and Friday, plus some sightseeing on the island.
He doesn't know how the carries will be divvied up amongst him, Charles and Morris come Sunday, but the rookie's approach will be to sit back and go in when he's told.
"I just want to make the most of whatever opportunities I'll get," he said. "I don't know when I'll play. It's not a big deal to me, but just to be able to go out there and play with this group of guys, it's going to mean a lot to me and I'll just try to do my best."
Lacy is returning from Hawaii on Monday night, and his first offseason as an NFL player awaits. He'll get his rest and let his body recover from the season, but he has every intention in 2014 of improving on the Packers rookie records he set with 1,178 rushing yards and 11 TDs in the regular season.
Those numbers make him a top candidate for the league's Offensive Rookie of the Year award, which will be announced the night before Super Bowl XLVIII. Already named second-team All-Pro by The Associated Press and the rookie of the year by the Pro Football Writers of America, Lacy stands a very strong chance of collecting more hardware at the NFL Honors show on Feb. 2.
Win or lose, he'll be getting back to work not long after that.
"I want to come back ready to go, just be ahead of the eight-ball instead of behind it as far as my conditioning," he said. "I'm pretty sure the rest of the guys and Aaron Rodgers will make sure I continue to give 100 percent and I'm not slacking off at all. As long as I have those guys behind me, there's always room for improvement."
For now, though, there's plenty of Pacific Ocean vista to soak in, from afar, of course.
"It's real beautiful out here," Lacy said. "The weather is perfect. The scenery is just amazing, man. We're just trying to take in as much as we can."