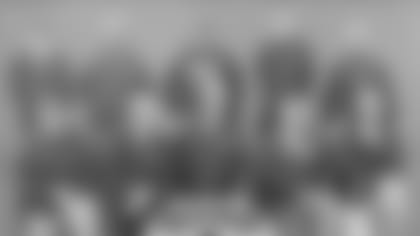 Back Row:  Mike Swartz, Wayne Binz, Bob Ross, Jeff Gulan, Jeff Haapoja
Front Row: Paul Jurakovich, Scott Erickson, Dave Lundin, Greg Rigoni, Dan Rye
The Packers have announced that Scott Erickson of Hurley High School has been named Green Bay Packers High School Coach of the Week.
Erickson, in his 23rd year as the head coach of Hurley, led the Midgets to a thrilling, last second 18-15 victory over Crystal Falls Forest Park on Friday, September 12. Friday's victory marked the first time Hurley defeated the Trojans in Crystal Falls since joining the conference in 2000.
"We've had a good program and good tradition up here, but one thing that we've always struggled with is winning against Michigan powerhouse Crystal Falls Forest Park," said Erickson. "On Friday, we had something really special happen. We were able to come from behind by scoring two touchdowns in the last six minutes. I'm really proud of what our kids were able to accomplish."
A Wakefield, Mich. native, Erickson is a 1987 graduate of Hurley High School, where he played linebacker and center under coach Jont Tyson. After high school, he attended the University of Wisconsin-Eau Claire, where he played linebacker. Following graduation in 1992, Erickson accepted his current position as the head coach for his alma mater.
Erickson and his staff oversee a program of 43 players, including a varsity roster of 25. His assistant coaching staff includes Wayne Binz, Jeff Gulan, Jeff Haapoja, Paul Jurakovich, Dave Lundin, Greg Rigoni, Bob Ross, Dan Rye and Mike Swartz.
Erickson and his wife, Farah, have a daughter, Talia, and a son, Brodie.
About the Green Bay Packers High School Coach of the Week Program
The Packers will recognize one outstanding high school coach as their 'Coach of the Week' winner during the 2014 high school football season. Winners are awarded several items and privileges, including a $1,000 donation to the school's football program from the Green Bay Packers and the NFL, as well as recognition of the award on Packers.com, Wissports.net and Wifca.org.
Nominations for Coach of the Week should be submitted by 10 a.m. every Monday to Tim Schroeder, youth football coordinator, at coachoftheweek@packers.com or by fax at (920) 569-7302. Please include the nominee's name, address, school, phone number and reason he/she is deserving of the award.