The Green Bay Packers today announced an exclusive photo featuring Bart Starr, Brett Favre and Aaron Rodgers is now available through the Packers Pro Shop.
This unique collector's photo, titled "Legendary Quarterbacks," features the three quarterbacks photographed together for the first time, as captured on Nov. 26, 2015.
The framed and matted photographs will be available in several different sizes, and prices ranging from $99.95 to $399.95, with 100 percent of the profits to be donated to charities chosen by Starr, Favre and Rodgers.
The photos are now available for purchase at http://pckrs.com/qbphoto, and will be available in-store at the Packers Pro Shop beginning in early November. Orders placed through the website should allow up to four weeks for delivery.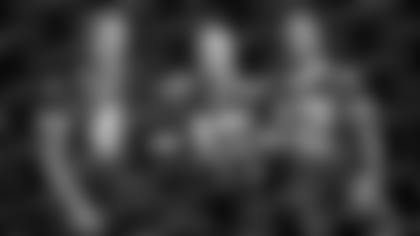 "We are pleased to offer this exclusive photo," said Packers President/CEO Mark Murphy. "The Packers organization has been very fortunate to have had three quarterbacks of this caliber. I think it is safe to say that this is unparalleled in NFL history."
Each photograph is carefully mounted and double matted under protective Plexiglas, with several different frame choices and sizes available. Officially licensed by the Green Bay Packers and the NFL, each frame is accompanied by a numbered certificate attached to each frame, as well as an individually numbered 8"x11" Letter of Authenticity. 
Fans interested in purchasing the photo may find more information and order the photo online at http://pckrs.com/qbphoto.   
This photo is owned and sold exclusively by the Green Bay Packers and printed by The Highland Mint. Any other version of this photo is not authentic nor officially licensed by the National Football League, Green Bay Packers and National Football League Players Association and is subject to copyright violations.