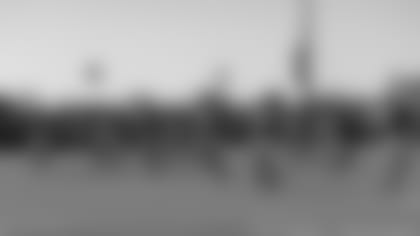 GREEN BAY -- As the pads go on for the first time Saturday morning, Head Coach Mike McCarthy is expecting to see what have been energetic workouts so far go up a notch.
"I want us to see improve in the process of practicing," McCarthy said prior to Saturday's third workout of training camp. "You have to practice the right way. The energy has been excellent.
"It's another step in the process, another step in getting ready to play games. There will be more energy here today. We're really plugging forward."
Evaluations of players become a little more complete in pads, particularly for linemen and running backs, and the area of pass protection is one that will be scrutinized closely. That said, for players fighting to make the roster, these practices are designed to get them ready to show what they've got in the preseason games.
"The first real evaluation is the first game, let's be honest," McCarthy said. "Football is football when you kick it off and there's clearly someone else on the other side. Everything that lesds up to that is important, that's why we do it, but it's my responsibility to get these men prepared to play games."
In the defensive backfield, rookie CB Kevin King and slot corner Quinten Rollins were working with the starters on Friday after those positions had been manned by LaDarius Gunter and Damarious Randall, respectively, in the opening practice on Thursday.
That type of rotation is by design and is likely to continue throughout camp as the Packers sort out who will be at the top of the depth chart come Week 1.
"I wouldn't get real caught up on who's running with who," McCarthy said. "This is a process. We're working different combinations, and I'm more interested in getting guys opportunities and quality reps, and sometimes who they do it with, the quality of the rep goes up."
No changes to the injury list were announced. TE Martellus Bennett left practice briefly on Friday but returned and later caught a TD pass to end the first unit's two-minute drill.
Packers.com will have more following practice and locker room interviews.