*As part of the Green Bay Packers' celebration of the 10th anniversary season of the Super Bowl XXXI Championship, Packers.com is running a series of stories about the people responsible for bringing the Vince Lombardi trophy back home to Titletown.
After middle linebacker George Koonce tore the anterior cruciate ligament in his right knee against the San Francisco 49ers during the Divisional Playoff game in January, 1997, he took on a different role with the Packers three weeks later in Super Bowl XXXI.
"I was a coach/player," Koonce said. "When guys came to the sideline, I kind of gave them a little bit of insight of what I was seeing from a coach's standpoint."
Koonce, 37, continues to guide Packers players in his new job as Packers' director of player development. In March 2006, Koonce succeeded Turner Gill in helping players and their families prepare for life after football. He develops their ability to adjust to their next career through internships, continuing education, family assistance and financial management.
"Their playing days are going to come to an end one day," Koonce said. "And I just want those guys to be prepared so that when they take that jersey off, it's a smooth transition."
Koonce has experience aiding athletes and advancing in the academic and career world. One year after beginning his master's degree in sports management at East Carolina, he accepted a job as assistant athletic director/program development at his alma mater. He raised money, recruited, took prospective student-athletes on tours and offered academic support.
Before working for East Carolina, Koonce took advantage of the knowledge he gained there. After leaving the NFL for good in 2001, the former industrial technology construction management major developed Koonce Properties -- a real estate holding designed for New Bern, N.C., multi-families. Over the years, he expanded it from 48 to 160 units. His wife Tunisia (who has a UNC-Charlotte business major) and mother Lina oversee the properties with Koonce now preoccupied with his Packers job.
As Koonce readies Packers players for their eventual career transition, he underwent quite a conversion himself before the 1996 season. To make room for emerging outside linebacker Brian Williams, Koonce switched from right outside linebacker to middle linebacker with only a week left in the preseason. Koonce, who played that middle position for two years at Chowan Junior College in Murfreesboro, N.C., adjusted seamlessly. The former undrafted free agent led the team in total tackles that year with 97.
"When I first broke in to the Packers, I played whatever position I could play just to get on the field." Koonce said. "I felt at home. I felt very comfortable."
Adding to his comfort zone, Koonce played behind a stout defensive line, arguably the strength of the Super Bowl winning-team. Gilbert Brown, Santana Dotson, Reggie White and Sean Jones occupied blockers, allowing Koonce to pursue the ballcarrier unimpeded.
"I knew they weren't going to let a whole lot of guys get on me," Koonce said. "I was able to run around and make some plays."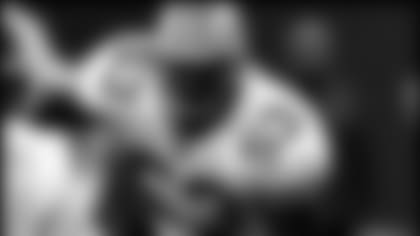 After performing so well that year, Koonce's knee injury, which forced him to miss the season's ultimate game, was disappointing. But Koonce looks back at that situation from a pragmatic standpoint. Contributing in the 16 regular season games to help rack up a 13-3 record and homefield advantage throughout the playoffs in frigid Lambeau Field carried greater significance for the Packers.
"If I had to pick when I would get hurt, I would say playoffs," he said. "We know the most important time of the year are those 16 games."
For Koonce the enduring memory from that game was his friend and defensive leader, Reggie White, holding the Vince Lombardi Trophy as high as he could. That celebration capped the comeback from the previous year's disappointing loss, a third consecutive playoff defeat at the hands of the Dallas Cowboys.
"That whole year was kind of magical because we came so close the year before," Koonce said. "Everybody kind of thought 1996 was going to be our year, but we had to put forth the time and the energy."
Now his career has come full circle. After playing eight years with the Packers, he returns to Green Bay for good.
"I'm never leaving. I'm going to retire in Green Bay," he said. "The Packers gave me a great opportunity to just come here and try to make the team in '92. Now I have a chance to come back and help give to the players and the organization that gave me so much."