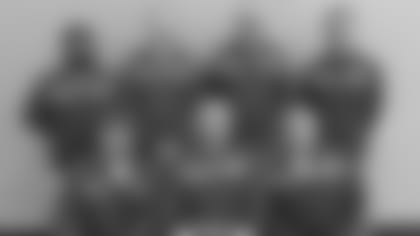 Front Row (Left to Right): Todd Hildebrandt, Jared Krasselt, Justin Rayburn
Back Row (Left to Right): Tim Buttke, Brian Abel, Jason Gorst, Ben Bauer
The Green Bay Packers have announced that Jason Gorst of the Spencer/Columbus Catholic Cooperative High School football program has been named Green Bay Packers High School Coach of the Week.
Gorst, in his fourth year as the head coach of the Spencer/Columbus Catholic (SC) football program, led his team to a 28-27 victory over No. 1-seed Wautoma in the WIAA Division 4 Level Two playoff matchup, Oct. 31. Last Friday's victory marks the first time SC will advance to Level 3 in the co-op's 13-year history. Gorst's team will travel to Little Chute Saturday, Nov. 8, for a 4 p.m. kickoff against the Mustangs in the third level of the 2014 WIAA Football Playoffs. 
"Our kids have a tremendous work ethic and although we don't have a lot of players out for football, the guys we have are high quality and they leave everything they got on the field," said Gorst. "We consider ourselves a family and I'm proud of the way our team has stuck together."
A Granton, Wis. Native, Gorst is a 2001 graduate of Granton High School, where he played tight end under former Green Bay Packers Coach of the Week winner, Brad Westphal. Upon graduation, Gorst spent two years at the University of Wisconsin-Marshfield/Wood County before transferring and graduating from the University of Wisconsin-Stevens Point in 2006. In 2008, he accepted his first assistant coaching position at SC before being promoted to his current position as head coach in 2011. He is also Spencer's middle and high school social studies teacher.
Gorst and his staff oversee a program of 40 players. His assistant coaching staff includes Brian Abel, Ben Bauer, Tim Buttke, Todd Hilderbrandt, Jared Krasselt and Justin Rayburn.
Gorst and his wife, Jessica, have a son, Jack, and a daughter, Isabelle.
About the Green Bay Packers High School Coach of the Week Program
The Packers will recognize one outstanding high school coach as their 'Coach of the Week' winner during the 2014 high school football season. Winners are awarded several items and privileges, including a $1,000 donation to the school's football program from the Green Bay Packers and the NFL, as well as recognition of the award on Packers.com, Wissports.net and Wifca.org.
Nominations for Coach of the Week should be submitted by 10 a.m. every Monday to Tim Schroeder, youth football coordinator, at coachoftheweek@packers.com or by fax at (920) 569-7302. Please include the nominee's name, address, school, phone number and reason he/she is deserving of the award.