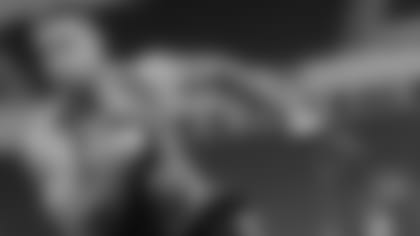 Texas S Kenny Vaccaro
GREEN BAY—One of the best safety crops in years highlights a class of defensive backs that offers starter-quality cornerbacks outside the first round.
"Very deep, solid at the top, good depth in the second and third rounds," is how draft guru Tony Pauline describes the class of safeties in this year's NFL draft. Pauline puts Kenny Vaccaro of Texas, Matt Elam of Florida and Eric Reid of LSU at the top of the class.
"Kenny Vaccaro was a terrific player for three years. Put him in centerfield, over the slot receiver; he has a well-rounded game," Pauline said.
A big part of Vaccaro's rise up boards is his cornerback-like coverage ability. It's a good defense against a no-huddle offense trying to trap a defense into mismatches.
"Matt Elam is the same as Vaccaro except Elam doesn't have Vaccaro's size. Eric Reid is more of a zone safety. He's a big hitter; more of an in-the-box kind of guy. You won't put him over a slot receiver," Pauline said.
As many as a dozen safeties might be selected in the first three rounds. Pauline likes Earl Wolff of N.C. State as a mid-rounds pick.
"He doesn't have great size, doesn't run a great 40, but he's a real good football player," Pauline said.
Sleeper? Pauline likes Richmond's Cooper Taylor, a seventh round/free agent type of prospect. Taylor, 6-4, 224, "runs under 4.5. He's a safety in a linebacker's body, but he can get outside the numbers and make plays. He could develop into a starter down the road," Pauline said.
The crop of cornerbacks isn't as star-studded at the top as it has been in recent years, "but it's a deep group with a lot of players with starting potential in the second and third rounds," according to Pauline.
Alabama's Dee Milliner, Florida State's Xavier Rhodes and Washington's Desmond Trufant are the first-rounders in a class that is deepest in talent in the second and third rounds.
"Jamar Taylor of Boise State and Darius Slay of Mississippi State are making big moves up boards," said Pauline, who is especially fond of UConn's Blidi Wreh-Wilson, a "second-round prospect that could sneak into the late part of the first round.
"He has tremendous size and speed numbers; great pro day. He struggled with injuries the last two years. Go back to his sophomore film and he was a dominant shutdown corner," Pauline said.
Opponents seldom tested Wreh-Wilson, which exposed teammate Dwayne Gratz and Gratz responded well enough to have pushed himself into the second or third round. Both UConn corners performed well at the Senior Bowl.
San Diego State's Leon McFadden was a standout in practices at the Senior Bowl and McFadden appears destined for a mid-rounds pick.
The Packers have drafted well for defensive backs in recent years, having created a stockpile of young defenders such as Morgan Burnett, Casey Hayward, Davon House and Jerron McMillian. Sam Shields and M.D. Jennings came to the team in undrafted free agency. Additional draft previews