The Green Bay Packers' representative in the NFL Punt, Pass & Kick National Finals last weekend, Jack Noffke, from New London, Wis., finished the competition in first place in the 14-15 age division and was crowned national champion.
Noffke was one of 40 finalists competing separately in five age divisions at the Indianapolis Colts' practice facility in Indianapolis. The 10 national champions were recognized for their achievement the next day during the game between the Indianapolis Colts and Tennessee Titans.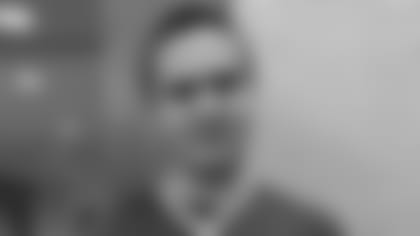 NFL Punt, Pass & Kick has been a part of Noffke's life since he was eight years old.
"I had always really liked playing football and decided I'd give it a shot," he said. "The competitions are fun and exciting, and force me to work on skills that I'd like to have."
Noffke, who also won the national championship for his age division when he was 12, now plays for the varsity football team at New London High School. This year's competition was the last for which he was eligible, due to his age.
Noffke said he enjoyed the opportunity to compete in the national championship during his last year of eligibility and visit Lucas Oil Stadium, as well as display his skills at Lambeau Field prior to the Packers-Cowboys game on Dec. 13, when he qualified to travel to the national competition.
"Playing on Lambeau Field was really fun. Even if the weather's not as great, it's still cool to be out there," he said. "It's hard to believe you're actually there."
Competitors in the championship launched two punts, two passes and two kicks with scores based on distance and accuracy (in feet). The best score from each activity was tabulated to determine the athlete's total.
Youngsters advanced to the national finals through local, sectional and team championship competitions held throughout the NFL regular season. The top four scorers in each age group from across the country qualified as national finalists.
NFL Punt, Pass & Kick, which began in 1961, is celebrating its 53rd anniversary. It is one of the nation's largest grassroots sports skills competitions. NFL stars – including Pro Football Hall of Fame quarterbacks Troy Aikman and Dan Marino – competed in the Punt, Pass & Kick program as youngsters.
The program is part of NFL Youth Football, which provides ways for children to play, watch and experience the game of football. For more information, visit www.NFLPPK.com. For other NFL PLAY 60 youth programs, visit www.NFLRUSH.com/play60.