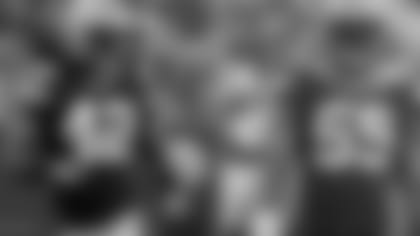 S Morgan Burnett (42) & LB Brad Jones (59)
GREEN BAY—The hamstring injuries sustained by safety Morgan Burnett and linebacker Brad Jones in Week 3 of the preseason might not be as healed as originally thought.
Burnett and Jones, who sat out the preseason finale last week but were not listed on the injury report all this week, were added on Friday and are both listed as questionable for Sunday's game. Burnett didn't practice on Friday while Jones was limited in the final tune-up prior to the Packers' trip to San Francisco.
"We'll see how it goes. We're being smart with those guys," Head Coach Mike McCarthy said. "You get to that point. It's 48 hours and it's important for everybody to get themselves ready to play the game.
"It's something we've always stressed when you get off the field on Fridays, the opportunity now to physically get ready.  Hopefully it's no more than that."
If it is more than that, the question of whether the other starter at safety is M.D. Jennings or Jerron McMillian becomes moot. The two spent all training camp and the preseason battling for the starting job alongside Burnett.
Jennings said on Friday that no one was really declared the winner, probably because both will have roles in the defense's various sub-packages, just like last year. Jennings and McMillian haven't played alongside one another much in the regular season, though, and if Burnett can't go, that would be an adjustment.
"It wouldn't take that much time," said Jennings, who expressed confidence that Burnett would be able to play. "We take reps beside each other at practice and we played together in the preseason. I think both of us would settle in and do pretty good on the back end.
"You have to be ready whenever. We play a lot of special teams, both myself and Jerron. It's no panic mode, you just have to be ready."
The same could be true for either Robert Francois or Jamari Lattimore, the top two backup inside linebackers, should Jones be unable to play. The nod would likely go to Francois, who started in Jones' place last week in Kansas City.
Primarily a special teams player in his three seasons in Green Bay, Francois hasn't seen significant action on defense since late in 2011, when he took over for an injured A.J. Hawk during the Thanksgiving game in Detroit and then started the next two contests.
Francois intercepted two passes in those three games, which confirmed that his home was at inside linebacker after working both the inside and outside spots previously.
"He's a different linebacker today than when he arrived here," McCarthy said. "The opportunity now to focus in on one position I think has really helped him.
"He's always been a tough, hard-nosed football player and done a very good job on special teams. Utility player for us, smart, tough. Love having him on our team."
The addition of Burnett and Jones to the injury report actually doubled the injury list for the Packers, who are relatively healthy.
Second-year cornerback Casey Hayward, who re-injured his hamstring in the same preseason game against Seattle in which Burnett and Jones got hurt, is out, while veteran cornerback Jarrett Bush (ankle) has been limited in practice but is probable for the game.
The Packers have dealt with a ton of injuries in two of the last three seasons and already lost tackle Bryan Bulaga and running back DuJuan Harris for this year. Should that be the worst of the news in 2013, it would be a welcome change. Time will tell.
"The way you go through a season, what happens to your team, how it grows, it forms a certain identity," McCarthy said. "Really, your identity and your personality, in my opinion, is what's formed in the first quarter of the season." Additional coverage - Sept. 6