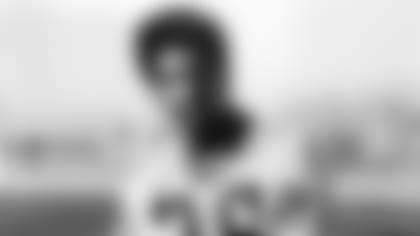 CB Willie Buchanon
GREEN BAY—This is for the most part a list of the ultra talented but most unfortunate Packers. They were all outstanding players, but not for long enough, and in all but one case it was due to injuries outside their control.
1. Cecil Isbell, B, 1938-42 – He entered the league a year after the legendary Sammy Baugh and matched him statistically and in All-Pro voting for five seasons. Isbell led the NFL in passing his final two seasons and set back-to-back league records for passing yardage. Shortly before the start of training camp in 1943, he abruptly retired to become an assistant coach at Purdue. (A panel of experts voted Baugh the 14th greatest player of all-time in a vote conducted by the NFL Network in 2010.)
2. Willie Buchanon, CB, 1972-78 – He was the NFL's defensive rookie of the year in 1972 and a key to the Packers winning the NFC Central Division title. He could run, he could cover and he was as physical and crisp a tackler as you'll ever find at that position. Buchanon was the prototype – what every team was looking for in a corner. But he broke both the tibia and fibula bones in his left leg in the sixth game of his second season, came back and made the Pro Bowl in 1974 and then broke the fibula in his left leg again in 1975. As a rookie, he appeared to be the second coming of Hall of Famer Herb Adderley, and maybe even better. Thereafter, Buchanon was good enough to maybe rank among the top five corners in Packers history, but not among the NFL's best ever.
3. Eddie Lee Ivery, RB, 1979-86 – He flashed so much potential in training camp as a rookie that his backfield coach, Zeke Bratkowski, said just prior to camp the following summer, "He's got the ability to cut back that (Gale) Sayers had and that Willie Galimore had." Sayers might have been the greatest broken field runner in the history of the game and Galimore, another former Bear, wouldn't be far behind. But Ivery tore up his left knee in the season opener his rookie year and then again in the season opener in 1981 and essentially missed two of his first three seasons. He was a productive, versatile back in six other seasons, but if not for the knee injuries he might have been the greatest running back in Packers history.
4. Nelson Toburen, LB, 1961-62 – He made his first pro start on Nov. 18, 1962, and broke his neck tackling Baltimore quarterback Johnny Unitas. Toburen fractured the fifth cervical vertebrae and completely dislocated the sixth. At the time, he was the backup at all three linebacker positions, and some of his coaches and teammates thought it was only a matter of time before he'd take someone's job and achieve stardom. "He would have been All-Pro," said Adderley. "He was a great athlete." While soft-spoken, Toburen exuded a steely toughness on the field and in the locker room. One staff member remembered Ray Nitschke starting and then backing down from a locker room confrontation with Toburen.
5. Lynn Dickey, QB, 1976-77, '79-85 – Tough call here. It could be Sterling Sharpe or Nick Collins, Pro Bowl players viewed as likely Hall of Famers by former GM Ron Wolf if not for the neck injuries that shortened their careers. But Sharpe and Collins each played close to seven years in good health. It could be Robert Brooks, an explosive receiver who caught 102 passes the year before a knee injury short-circuited his career, or maybe cornerback Tim Lewis, a No. 1 pick who had 16 interceptions in three healthy seasons before his neck injury. But Brooks and Lewis didn't appear to have as high a ceiling as Sharpe and Collins. So Dickey gets the nod. As good as Aaron Rodgers is at it, Dickey might still be the best long-ball passer in the Lambeau Field years (since 1957) of the Packers. Maybe the most picture perfect passer. His arm was special. He was football smart. He had everything but mobility. A traumatic hip injury in Houston and a compound fracture of his left leg in his second season with the Packers left Dickey a sitting duck against any team that could rush the passer. Otherwise, he might have passed his way to much greater heights.