*As part of the Green Bay Packers' celebration of the 10th anniversary season of the Super Bowl XXXI Championship, Packers.com is running a series of stories about the people responsible for bringing the Vince Lombardi trophy back home to Titletown.
Lamont Hollinquest only played three seasons in Green Bay but that doesn't mean he doesn't consider himself a lifelong Packer.
In 1996, Hollinquest appeared in all 16 regular season games as well as the three postseason games that followed. The 6-foot-3, 243-pound outside linebacker may not have played extensively on defense, but to say he had a prominent role on special teams would be an understatement.
In fact, Hollinquest finished with 15 special teams stops in the regular season, second only to Bernardo Harris for the team lead.
Yet, for all the impressive feats the team accomplished on it's run to a Super Bowl XXXI victory, as well as his individual contributions to the team, all of that takes a back seat to what Hollinquest, 35, remembers the most.
"The camaraderie was unbelievable," Hollinquest said. "We had leaders like Brett Favre, Reggie White, LeRoy Butler and Santana Dotson. The years I played in the league with Cincinnati and Washington, that type of team camaraderie is something we didn't have."
The fact that Hollinquest had played football since he was a youngster but never enjoyed the game the way he did with Green Bay is the ultimate testimony of how unique the team really was.
"Without a doubt, playing in Green Bay was definitely the first time I had fun playing football," Hollinquest explained.
The players that made up that team will forever live in Hollinquest's memory, too.
"I still feel that the team, even though I haven't seen a lot of these guys and even some since then, I feel like we have a bond as a team that will never be broken," Hollinquest said.
Before he landed in Green Bay, Hollinquest was hanging on for his football life. Washington drafted him out of the University of Southern California in 1993 and he played nearly two seasons for the Redskins before Cincinnati picked him up. But he never played a game in a Bengals' uniform, and then he spent the 1995 season out of football.
At that point Hollinquest's future was looking pretty bleak, but all Hollinquest wanted was a chance, and a certain coach gave him just that.
Of course, that coach was Mike Holmgren.
"Mike Holmgren, being an USC alumni, he gave me a second chance in my career," Hollinquest explained. "After going through some hardships in Washington and Cincinnati, Mike Holmgren didn't listen to any of the negative stuff that had been out there and he gave me a chance."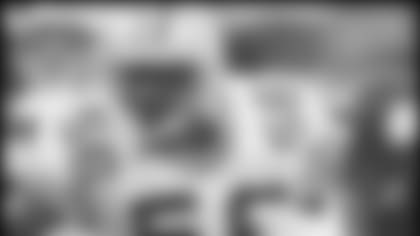 Obviously his football days are over, but Hollinquest has long since moved on to another career. He lives in Phoenix, Az., and has three children -- Chaz, 15, Courtney, 12, and Cohl, 8. He currently serves as an enrollment advisor with Phoenix Online, an online university that serves the educational needs of working adults.
Working with music has always been one of Hollinquest's hobbies, and he's parlayed that passion into his position as vice president of operations for the record company Blaq Ice Entertainment (http://www.blaqice.com). He also has a clothing line called Urban Grunge Apparel Company, which is geared toward cycle sports and board sports. Hollinquest would also like to get into public relations work down the road, too.
Despite all the hard work and dedication to his new line of work, Hollinquest has managed to keep tabs on his old team. And although most of the guys he played with are no longer on the team, Hollinquest said that will never affect how he feels about the Green Bay Packers.
"Oh man, I'm a Packer Backer forever," Hollinquest said. "Win, lose, or draw, I follow every game."
It just goes to show that "once a Packer" means "always a Packer" to some.