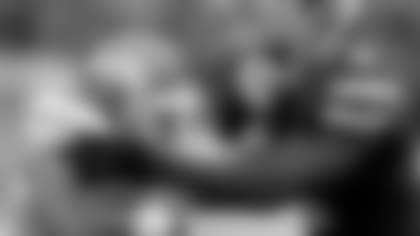 Kansas State LB Arthur Brown
GREEN BAY—What had been considered a thin group of inside linebackers when the postseason evaluation period began at the Senior Bowl, has been strengthened significantly by the emergence of one player. Is he the next Ray Lewis?
His name is Arthur Brown of Kansas State. He's smallish, 6-0, 224, as Lewis was coming out of Miami.
"A lot of people are likening his game to Ray Lewis. Brown fits in the bottom part of round one. A lot of people thought he was going to play outside linebacker. He was always a good player and then he blew up his pro day a few weeks ago. Ran in the high 4.6's," draft guru Tony Pauline said.
The emergence of Brown and the additions of juniors Alec Ogletree of George and Kevin Minter of LSU have strengthened the group of inside backers. Pauline has changed his opinion of the group.
"Solid class, better than usual. It has some depth. It was Manti Te'o and everybody else," Pauline said.
Much has changed since Te'o was thought to be the best of the inside linebackers. The Notre Dame star has fallen dramatically since the college season ended. He was maligned by a mysterious online love affair, then saw his draft stock crushed by a poor combine workout.
While Te'o was falling, Brown was rising. The Ray Lewis comparison, Brown's productiveness in college and his pro-day workout became puzzle pieces that fit perfectly into an inside linebacker picture that needed a few pieces to the puzzle.
Brown totaled 17 tackles for a loss in the last two seasons, starting 26 games and intercepting three passes. The only knock on him is a lack of size.
Ogletree, 6-3, 235, has ideal size, speed and athletic ability. He has the size to play inside and the athletic ability to play outside. He has true star potential but a pre-combine DUI has brought character concerns into focus.
Minter, 6-2, 240, is a thumper. He doesn't have playmaker speed but he's solid in coverage and figures to be a dependable, every-down defender.
On the sleeper side, Penn State's Michael Mauti was finishing up a standout college career when he sustained a torn ACL for the second time in two years. He had already torn his right ACL. So, on two rebuilt knees, Mauti's stock has dropped dramatically and he might offer nice value late in the draft.
Pauline is especially high on two down-the-line prospects at inside linebacker: "Bruce Taylor of Virginia Tech couldn't break five seconds in the 40, but he plays much better. Greg Blair of Cincinnati is a JC transfer that turned himself into a prospect last year," Pauline said.
On the outside, Pauline likes Dion Jordan of Oregon, Barkevious Mingo of LSU and Damontre Moore of Texas A&M, all of whom are also prospects at defensive end, and "obviously Jarvis Jones fits in there somewhere, too," Pauline said.
Jones is falling on boards due to concerns about stenosis in his neck. Jones, also considered a 4-3 end prospect, saw his stock drop further due to a lackluster pro-day workout. He was considered to be a top 10 prospect a few months ago, but he could turn out to be a steal for some lucky team late in the first round.
Pauline is also quick to mention A.J. Klein of Iowa State, a mid-rounds prospect who brings dependability and toughness to the strong side position, and Jamie Collins of Southern Miss and Michael Buchanan of Illinois. Collins, 6-3, 245, is a long-armed 3-4 outside backer type with upside. Pauline says Buchanan is a "last-day pick but a very good player."
North Carolina's Kevin Reddick is a mid-round inside linebacker with upside. Additional draft previews