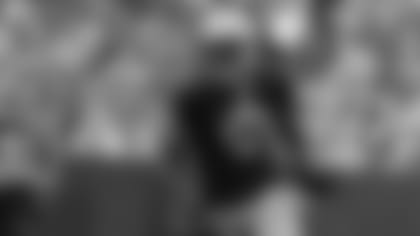 TE Jermichael Finley
GREEN BAY—There is no timeline or prognosis yet on tight end Jermichael Finley regarding his neck injury, but Head Coach Mike McCarthy said on Monday that Finley is "up and performing daily activities."
"He's in good spirits," said McCarthy, who noted Finley spent Sunday night in the hospital and was still there as of Monday afternoon for further examination.
"Jermichael is very upbeat, very positive, always has a smile on his face. He's focused on what's most important, and that's his health and his family."
Finley took a blow to the head from Browns safety Tashaun Gipson in the fourth quarter on Sunday. He lay motionless for several minutes and then was immobilized and removed from the field on a gurney.
McCarthy termed the injury "significant" and suggested it may be awhile before enough is known to determine what's next for Finley.
"We do not have enough information," McCarthy said. "This is something that needs to be seen by more than one doctor."
The hit occurred as Finley caught a pass and was being tackled from behind by Browns safety T.J. Ward. As Finley went down, Gipson charged upfield, lowered his shoulder and hit Finley in the head, drawing a flag.
Reviewing the television video and coaches' film, McCarthy said he didn't see anything obvious that could have changed the outcome.
"I don't know what really you can do," he said. "It just seemed like one of those situations where it just kind of went that way.
"I didn't think it was a dirty play. I thought it was two guys playing football, or three guys who were involved in the collision. I don't know what else any of the players involved could have done differently."
It's certainly nothing new for the Packers to be dealing with another major injury, but they'll soldier on. Low on pass catchers and pass rushers, the Packers still beat the Browns convincingly.
It's possible receiver James Jones (knee) and tight end Ryan Taylor (knee) could get back on the field this week, McCarthy said, but more will be known on Wednesday when the team returns to practice.
The healthiest positions on the team are the offensive and defensive lines, and the way the Packers are running the ball and stopping the run – they rank sixth in the league in rushing offense and third in rushing defense – they'll continue to rely on the players up front to set the tone on both sides of the ball.
"Absolutely. Our big guys are where it starts," McCarthy said. "We talked about it Saturday night in the team meeting. We're going to lean on our big dogs, and that will definitely be part of our focus as we go forward."
With three straight wins, the Packers (4-2) have moved into first place in the NFC North, one-half game ahead of Chicago and Detroit (both 4-3).
Four of Green Bay's next six contests are division games, beginning with back-to-back meetings against the Vikings and Bears the next two weeks. The six-week stretch ends at Detroit on Thanksgiving and will go a long way toward determining whether or not the Packers take the division crown for a third straight year.
"We're 4-2, and we're getting better as a football team," McCarthy said. "Our mental execution was the best yesterday that it's been all year. It's a little late arriving for this team compared to prior teams, so I'm excited about that.
"When that starts, when you see that from your team, that's always been a pretty good indicator that you're taking a step forward, and I think the last two weeks we have, but we know we've got two really big games coming up here with Minnesota and Chicago." Additional coverage - Oct. 21