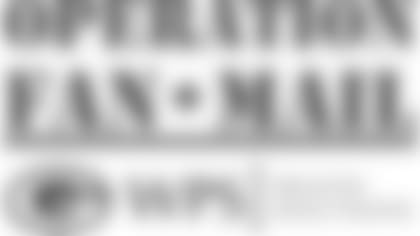 The Green Bay Packers and WPS Health Solutions paid special tribute to John Rutt and his family during Thursday's Packers-Bears game for 'Operation Fan Mail.'
Rutt, originally from Sterling, Ill., was drafted into the Air Force division of the U.S. Army in 1943. After completing gunnery school in Las Vegas, he was assigned as a belly gunner for the B-17 flying fortress and eventually served as staff sergeant and training specialist at Camp Atterbury in Edinburg, Ind., until 1946.
Following his military service, Rutt returned to his job as an office assistant in the mail room for Frantz Manufacturing, and spent his career working his way up to vice president and member of the board of directors for the company, retiring in 1985.
At age 96, Rutt still enjoys traveling regularly and watching the Packers. The only Packers game he ever attended in person prior to Thursday was a matchup with the Chicago Bears at Wrigley Field in 1956, quarterback Bart Starr's first year with the team.

Rutt attended Thursday's game with his daughters, Nancy Morgan and Patricia Aldrich, as well as grandsons Tim and Eric Aldrich. He also has one other daughter, five grandchildren and seven great-grandchildren.
Operation Fan Mail, which debuted in 2007, is designed to recognize families with a member who is on active duty. The Packers and WPS Health Solutions will host a family at each 2016 home game and recognize them on the field during pregame activities. A total of 94 individuals or families have been recognized through the program thus far.
To choose families, the Packers and WPS Health Solutions are asking interested families, or friends of eligible families, to submit an essay, 500 words or less, on why a particular fan should be saluted. Essays can be sent to: Operation Fan Mail, P.O. Box 10628, Green Bay, WI, 54307-0628 or submitted online at packers.com/gameday/gamedaypromotions/operationfan_mail.
In addition to being recognized on-field prior to the game, selected families receive four tickets to the game. Families intended for recognition are those that have a member serving on active duty. The family member can be a spouse, mother, father, son, daughter or sibling.