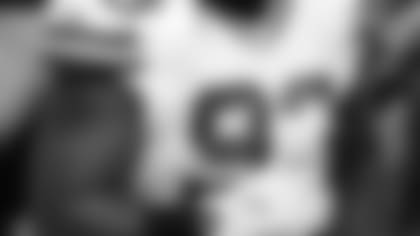 Josh Boyd
GREEN BAY—B.J. Raji's bicep injury would seem to signal a loud call for two veteran defensive linemen to take on larger roles for the Packers in 2014.
One of them stepped forward at the end of 2013, but the other hasn't been able to practice yet in training camp.
Second-year pro Josh Boyd was having a quiet rookie season last year when Johnny Jolly was suddenly lost for the remainder of the year, and Boyd began to get more snaps and produce over the final month.
His progress will be needed all the more now that Raji is soon to have surgery on his bicep. Head Coach Mike McCarthy also said Raji would not be a candidate for the temporary injured reserve spot, indicating he's likely lost for the season.
"This offseason, I was preparing just to give this team more, try to help them more," said Boyd, a fifth-round draft pick out of Mississippi State last year. "With this, I have to step up. I'm prepared for it, I'm ready for it."
He could be needed at either the nose tackle spot in the base defense, or as a three-technique tackle in a sub package. He played mostly as a base end last season but lined up as an inside rusher on occasion as well during a rookie season he called "a blur" because of how much he had to learn.
He started showing what he learned, posting multiple tackles in four of the last five games, including the playoffs.
"You really saw him come on at the end of the season, and I think he's picked up where he left off," McCarthy said. "Versatility on our defensive front will be important. B.J. has been such an anchor in there, particularly the way we've approached defense this year. I'm counting on someone to step up."
The other option could be veteran Letroy Guion, who was signed as a free agent in the offseason. But Guion has been out all training camp with a hamstring injury sustained before he reported to Green Bay.
Guion's absence has opened the door for undrafted rookies such as Mike Pennel, Carlos Gray and Luther Robinson to make strong bids for roster spots, with rookie third-round draft pick Khyri Thornton in the mix as well.
But Guion is perhaps the one who could be the most reliable of the group, given his experience. He played the nose and other inside spots on the defensive line during OTAs, and he has six years with the Minnesota Vikings to fall back on once he does return.
"You have to get out there, get in a rhythm, get the feel, take on a couple blocks, get the movement back," Guion said. "It'll be tough at first, but I'm a football player. I can get back in there."
McCarthy said Guion is "getting close" to returning but gave no specific target date.
"I'm feeling good. I'm ready," Guion said. "I'm just waiting on the go-ahead.
Additional coverage - Aug. 24