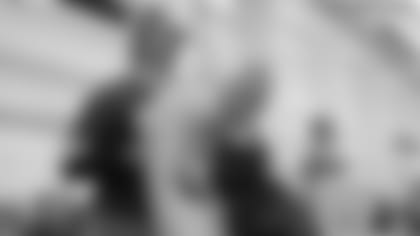 ](http://www.packers.com/media-center/photo-gallery/Packers-Junior-Power-Pack-Kids-Clinic/7c35eeda-4842-4817-a21e-50b314449394)
Click to view Photo Gallery

Held inside the Don Hutson Center, where the Packers' rookies sweated through their first NFL minicamp a few weeks ago, the 15th annual "Junior Power Pack Kids Clinic" was a big success on Saturday. With instruction by current and former players, the workouts were not only memorable for the members of the team's official fan club for youngsters, but challenging.
In the morning, wide receiver Tori Gurley, linebacker Frank Zombo and former cornerback Johnnie Gray (1975-83) helped put the "Junior Power Pack" attendees through their paces on the artificial turf. There were three sessions throughout the day, and the drills were organized much like a routine NFL practice.
The workouts included pounding blocking pads, catching and throwing passes, and speed and agility drills, all under the tutelage of current players and former Packers greats.
The event grows annually, and estimates were that over 2,000 "Junior Power Pack" members participated in the three sessions. Quarterback Graham Harrell, former linebacker Bryce Paup ('90-94) and rookie linebacker Terrell Manning served as coaches in the afternoon.
Parents and family members wrapped around the indoor field to watch the practices, a rare glimpse inside the Don Hutson Center to see the championship banners above. There was also a new area this year for special activities outside, including food, kids club t-shirt sales and after the camp, all of the attendees received special gifts.
The clinic was reserved exclusively for members of the "Junior Power Pack Kids Fan Club." For $20 a year, members receive a personalized welcome letter and membership card, a Packers dry erase board, a player 8x10 photo, and an invitation to the 2013 Junior Power Pack Clinic.
Membership also includes free admission to the Packers Hall of Fame and a 10 percent discount on regularly-priced merchandise on items purchased at the Packers Pro Shop.