GREEN BAY – Packers defensive lineman Kenny Clark has been named the 2018 Tom Mulhern Stand-Up Guy Award by the Green Bay chapter of the Professional Football Writers of America.
The annual award is presented to the Packers player voted to have best helped reporters covering the team to do their jobs effectively. Previous winners include cornerback Tramon Williams, receiver Davante Adams, and left tackle David Bakhtiari.
"A lot of it is trying to connect with the fans, and just trying to be a good guy all-around," said Clark upon receiving the award Friday. "I know (the media has) a job to do, and it's my job to talk. I've got to do my job, be serviceable. And then yeah, just connecting with the fans, showing them my side, how I do things. That's just how I am."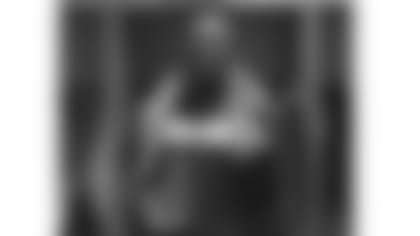 Clark, a first-round pick in 2016, enjoyed a breakout year en route to being selected as a Pro Bowl alternate for the first time in his three seasons. Along with his 55 tackles, the 6-foot-3, 314-pound defensive lineman set new career highs in both sacks (six) and passes defensed (three).
He started the first 13 games of this season before being placed on injured reserve Wednesday with an elbow injury. While still the youngest player at his position, the 23-year-old Clark challenged himself to be more outspoken in Year 3.
"This last year, this is probably the most I've spoken," said Clark with a smile. "It's a learning curve for me, too, just learning how to talk – what to say, how to say it, and how people view things I say. It's definitely a learning curve for me. This year, I've never talked so much in my life – to the media or just in the locker room, in general."
The Stand-Up Guy Award is named after the late Tom Mulhern, a former Packers and Wisconsin Badgers beat writer for the Wisconsin State Journal and Milwaukee Journal-Sentinel who passed away at age 56 in October 2014.