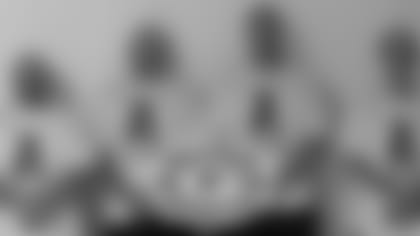 Pictured: (L-R) Steve Henrickson, Jeremy Hamm, Jake Knapmiller, Andy Brehm
The Packers have announced that Jake Knapmiller of Abbotsford High School has been named Green Bay Packers High School Coach of the Week, making Knapmiller the first recipient of the award in 2014.
Knapmiller, in his fourth year as the head coach of Abbotsford, led the Falcons to a 27-13 victory over Assumption High School on Friday, Sept. 5. Abbotsford improved to 3-0 for the first time since 2003.
"We were 0-9 three years ago with 11 of these players starting as freshman," said Knapmiller. "I give our kids a ton of credit for getting to this point. They never gave up. They stuck with the program and we've become better individuals because of it."
A Madison, Wis. native, Knapmiller is a 2000 graduate of Cameron High School, where he played guard and defensive tackle under coach Kurt Huseth. After high school, he attended the University of Wisconsin-River Falls where he played tight end for Wisconsin Football Coaches Association Hall of Fame inductee John O'Grady. Knapmiller began his coaching career in 2005 as the junior varsity offensive coordinator for Turtle Lake High School. He then moved to Lancaster High School, where he spent two seasons as the tight end coach. In 2008, he accepted an assistant coaching position at Abbotsford before being promoted to head coach in 2011. Knapmiller is also the middle and high school history, social studies and psychology teacher. 
Knapmiller and his staff oversee a program of 34 players. His assistant coaching staff includes Andy Brehm, Jeremy Hamm and Steve Henrickson.
Knapmiller and his wife, Janalee, have two sons, Isaac and Easton.
About the Green Bay Packers High School Coach of the Week Program
The Packers will recognize one outstanding high school coach as their 'Coach of the Week' winner during the 2014 high school football season. Winners are awarded several items and privileges, including a $1,000 donation to the school's football program from the Green Bay Packers and the NFL, as well as recognition of the award on Packers.com, Wissports.net and Wifca.org.
Nominations for Coach of the Week should be submitted by 10 a.m. every Monday to Tim Schroeder, youth football coordinator, at coachoftheweek@packers.com or by fax at (920) 569-7302. Please include the nominee's name, address, school, phone number and reason he/she is deserving of the award.