GREEN BAY – Kyler Fackrell is not one to give into peer pressure, but Clay Matthews can be persuasive.
So after two full years of getting grief from the six-time Pro Bowler and the rest of the Packers' pass rushers for not having a proper sack celebration, Fackrell finally came up with a strategy for how to attack his third NFL season.
Three kisses – one for his wife, Elizabeth, and one apiece for their two daughters, Delaney and Lucy.
"I just came up with it," Fackrell said. "I always get crap from Clay and the guys in the outside linebacker room for not having any kind of celebration, so I finally came up with that."
Needless to say, Fackrell has been blowing a lot of kisses through the first 10 games of 2018.
Now with a team-high eight sacks, Fackrell joined an exclusive group of Green Bay pass rushers when he sacked Seattle quarterback Russell Wilson three times last Thursday night. It's only the sixth time in franchise history a pass rusher has had a pair of three-sack games in a season and the first since Matthews accomplished the feat in 2010.
Perhaps the most impressive part of Fackrell's breakthrough season is how often he's gotten to the quarterback in contrast to his opportunities. Of the 17 NFL pass rushers with at least eight sacks this season, Fackrell has played the fewest snaps (290 or 43.4 percent of Green Bay's total), according to Football Outsiders.
The next closest is Chicago's Khalil Mack (426 defensive snaps/63.5 percent), who is tied with Fackrell for fourth in sacks among linebackers.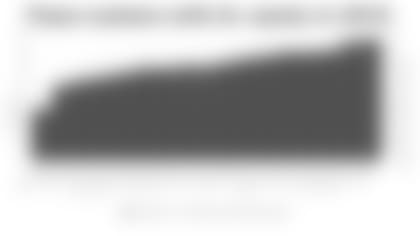 Fackrell started the season rotating with first-year linebacker Reggie Gilbert behind Matthews and Nick Perry, but he has seen his reps skyrocket over the past month with Perry battling ankle and knee injuries.
The most tangible difference in Fackrell's game has been a more carefree mindset. No longer concentrated on doing everything right from a technical standpoint has enabled the 6-foot-3, 245-pound linebacker to play unencumbered.
"I think that's what you love about Kyler is he's kind of just ho hum, comes in here not too high, not too low," Matthews said. "I think earlier in the season he made a concerted effort, I think he was trying to do everything the right way, and he finally … he kind of said to me a certain two-word expression as far as getting after it."
That not-too-high, not-too-low mindset was critical for Fackrell during his first two NFL seasons. A third-round pick in 2016 out of Utah State, Fackrell faced sky-high expectations as a developmental rusher behind Matthews and Perry.
Fackrell's first two seasons produced five sacks in 29 regular-season games. Every summer, Fackrell's game also thrown under the microscope during one-on-one pass-rush drills until that narrative began to change after he beat All-Pro left tackle David Bakhtiari early in this year's camp.
It was a harbinger of positive things to come for Fackrell, who had career-defining performance against Buffalo in Week 4, sacking Bills quarterback Josh Allen three times in the fourth quarter, which allowed the third-year linebacker to debut his new sack celebration.
"He's one of those guys who doesn't want to take too much credit or anything, but we saw the work Kyler put in this offseason," said defensive tackle Kenny Clark, Fackrell's 2016 NFL Draft classmate. "He's not going to say much. He's just going to be there, do his job and do it to the best of his ability. To see him finally use his athletic ability with his length and all his traits and how it's really paying off is really good for us."
Shortly after Mike Pettine was hired in January, the Packers' defensive coordinator turned on Fackrell's film to get a better idea of the linebacker he was inheriting. What he saw were glimpses of big-time playmaking ability, though inconsistent.
During the offseason program, Pettine was optimistic Fackrell could turn a corner because of a strong work ethic and high football IQ that was evident early on.
While the sack totals are what jump off the page, Fackrell's impact can also be felt in how he's improved against the run and his athleticism dropping into coverage at times.
Pettine agrees it's probably a bit more the "exception than the norm" for a young player to have a breakthrough in his third NFL season, but it isn't highly unusual, either.
"Guys just take time to get used to the speed of the game and how to approach it, and how (to take) care of himself in the offseason," Pettine said. "I thought he came into training camp in great shape. It's just taken time for all that to click in. Obviously, you're seeing the results."
Inside the locker room, Fackrell remains soft-spoken and polite. This week, he answered every question about his successes with the same tone and mannerisms he did during his first two seasons when the sacks weren't coming in as rapidly.
Should his next sack come Sunday night against the Minnesota Vikings, Fackrell will send the same message back to a family that stuck with him through the highs and the lows of life in the NFL.
"It's very gratifying no matter what has been happening," Fackrell said. "I think the only way to really approach being a professional football player is just to put your head down and work and not worry about the outside stuff.
"It's a pretty cliché thing to say, but it's hard to do sometimes, you know? But I think not having social media is good. That helps. So I truly don't see a lot of it."