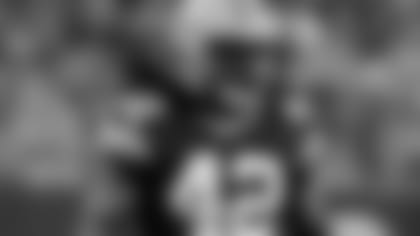 S Morgan Burnett
GREEN BAY—The Packers got a little healthier over their bye week, but how healthy isn't clear just yet.
In a full-pads practice late Monday afternoon, running backs Eddie Lacy (concussion) and Johnathan Franklin (foot), along with safety Morgan Burnett (hamstring), were practicing during the portion of the workout open to the media.
Several other injured players were still out, however. They included linebacker Clay Matthews (hamstring), tight end Jermichael Finley (concussion), running back James Starks (knee), cornerbacks Casey Hayward (hamstring) and Jarrett Bush (hamstring), and fullback John Kuhn (hamstring).
Head Coach Mike McCarthy didn't comment on the injury list, other than to say Lacy was "full-go" and Franklin was limited. He also said that several players had tests with the training staff, meaning it's possible some could be cleared to practice this week.
"We'll have that information for you Wednesday," McCarthy said, referring to the team's next scheduled workout.
Burnett is one of two active-roster players (along with Hayward) who hasn't played yet this season, so he was genuinely thrilled to get back on the field. Originally hurt in the third preseason game, Burnett — sporting a new dreadlock-free haircut for the first time since the 10th grade — said he was "excited just to put on my pads" and "wasn't holding anything back."
As a leader in the secondary, Burnett's presence has been missed, with the Packers allowing all three opposing quarterbacks thus far to post passer ratings above 100. Burnett is aware, though, that he can't approach his first game as though he must make up for lost time.
"Don't get caught up in missing three games, feeling like you're behind the eight-ball," he said. "Just do your job, let the game come to you, and don't go chasing things and forcing things that aren't there."
McCarthy said the team's pass defense and turnover ratio were two areas the coaching staff examined closely during the bye week. While the defense made a "big step" in getting four takeaways in Cincinnati, McCarthy wants to see the offense, which has seven turnovers in three games, take better care of the ball.
Another area of bye-week study was the return game, which will see change following the release of Jeremy Ross one day after his costly kickoff fumble against the Bengals.
The most experienced returner on the roster is receiver Randall Cobb, while rookies Micah Hyde on punts and Franklin on kickoffs also could be in the mix. Rookie practice-squad running back Michael Hill was signed to Ross' roster spot and could get a look as well, though he never handled return duty in four years at Missouri Western.
"We have some candidates," said McCarthy with no interest in revealing the team's plans. "Whether Randall will do it or won't do it, we'll let the week play that out. It's a focus. It's been a focus since we've made the change."
For his part, Cobb said he's preparing as though he's going to be the guy, which is no different than his approach when Ross was here.
"I have to. That's my job to be prepared to be that guy," Cobb said. "I've prepared all through training camp, all through OTAs. I'm practicing it still now. I'm prepared to go whenever my name is called."
As for whether adding full-time return duty would make him any less explosive on offense, or vice versa, Cobb didn't sound overly concerned about getting worn down.
"I'm out there to play every down as hard as I can, and to give 110 percent effort every play that I'm out there," he said. "Whether it's a special teams play or an offensive play, I have to go out there with the same mindset, same mentality." Additional coverage - Sept. 30