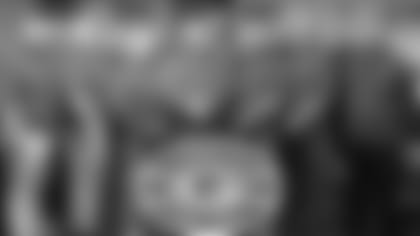 Front row, left to right: Tyler Rosa, John Rivard, Mick Fox, Bruce Larson, Chet Bangor, Dean Hoff, Trent Larrieu Back row, left to right: Tim Germain, Ross Wargula, Grant Solum, Joe Hutter, Bob Seibel, Dave Praschak
Not pictured: Terry Otradovec
Bruce Larson of Somerset High School has been named the Wisconsin Football Coaches Association (WFCA)/Green Bay Packers Coach of the Year.
Larson recently completed his 16th season as the head coach of the Somerset football program. The Spartans finished the 2014 season with a perfect 14-0 record, capped off by a 28-16 victory over Little Chute High School in the WIAA Division 4 State Championship at Camp Randall Stadium in Madison on Nov. 20.
"We had a phenomenal season with a great group of kids," said Larson. "These kids worked very hard and played together as a team all season long. It's the first time since I've been here that we've had a perfect record."
A Spring Valley, Wis., native, Larson is a 1982 graduate of Spring Valley High School, where he played on the offensive and defensive line for WFCA Hall of Fame inductee Bob Thomas. After high school, he attended the University of Wisconsin-River Falls, where he played for another WFCA Hall of Fame inductee, Mike Farley. Upon graduating in 1986, Larson took his first coaching position as an assistant for the offensive line at Somerset before being promoted to head coach in 1999. He is also the school's physical education teacher.
Larson and his staff oversee a program of 85 players, including a varsity roster of 50. His assistant coaching staff includes Chet Bangor, Mick Fox, Tim Germain, Dean Hoff, Joe Hutter, Tret Larrieu, Terry Otradovec, Dave Praschak, John Rivard, Tyler Rosa, Bob Seibel, Grant Solum and Ross Wargula.     
Larson and his wife, Kelly, have two sons, Rocky and Reggie, and a daughter, McKell.
In recognition of the honor, the Packers will award a $2,000 donation to the Somerset football program. Larson will be presented with the award at the Packers home game against the Detroit Lions on Dec. 28, and honored on Jan. 25 at the WFCA All-State banquet in the Lambeau Field Atrium.
This marks the 17th year both the Green Bay Packers and WFCA have awarded the honor together. The WFCA has awarded a Coach of the Year since 1976, while the Packers have presented the same award since 1998, in addition to the Coach of the Week program that has honored 176 coaches and programs statewide since its inception.
More information regarding this award, the All-State team and the WFCA is available at www.wifca.org