GREEN BAY—She shares a birthday with Bart Starr, and now she shares a place in Packers history with the legendary quarterback, too.
Vivian Scherf-Laabs was named the 16th member of the Packers FAN Hall of Fame on Wednesday in a brief ceremony in the Lambeau Field media auditorium.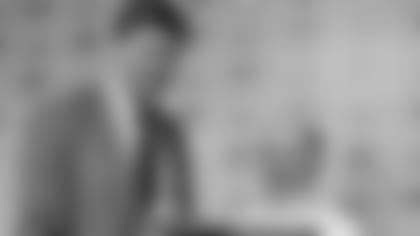 Along with her twin brother, Vivian turned 80 last month on Jan. 9, just like Starr, whom she followed from the beginning of his playing career in the late 1950s. One of her favorite pieces of memorabilia is an autographed picture she has of Starr on which he wrote, "To a very special lady and devoted fan …"
"I started listening to games way back in the forties on the radio, and when television came we started watching," Vivian said. "The games weren't too good at that time, but we stuck with them."
Vivian's devotion was never higher than in January of 1968, when she braved a flight from a snowy and icy Milwaukee to get to Miami and watch the Packers defeat the Raiders in Super Bowl II in Vince Lombardi's last game as Green Bay's head coach.
A commemorative Super Bowl II T-shirt she picked up years later was her attire on Wednesday, when she was announced as this year's honoree from 10 finalists following an online vote last month. More than 20,000 votes were cast.
A native of Cedarburg, Wis., near Milwaukee, Vivian was nominated for the FAN Hall of Fame by her twin brother, Stewart, who was also in attendance for the announcement.
A former high school quarterback, Stewart played plenty of sports growing up with his "tomboy" sister who didn't have the athletic opportunities young girls have today.
"I got him into the Cedarburg Hall of Fame, and he said I'm going to try to get you into the Packers Hall of Fame," Vivian said.
"I thought I'd get even with her," Stewart said. "Worked out all right."
When the two watch Packers games together, they continue a ritual Vivian began with her late husband – tossing a small football back and forth after the Packers score.
"If I watch it alone, it sounds stupid, but I throw it up, and every time they score, I score," she explained, after which Packers President/CEO Mark Murphy quickly interjected.
In addition to the autographed picture of Starr, Vivian has a large collection of Packers memorabilia and enjoys telling the story of when she got to try on Ray Nitschke's Super Bowl ring.
"I could fit two fingers in it," she said.
For being chosen this year's FAN Hall of Fame honoree, Vivian receives a prize package that includes four club seats to a 2014 Packers home game, a $500 Packers Pro Shop gift certificate and a road trip for two to a 2014 Packers away game, including tickets, airfare and hotel.
"Establishing this FAN Hall of Fame was really a key component for us to recognize the unique spirit our fans have," Murphy said. "We're the only team in the league with a fan Hall of Fame, and it's something we're very, very proud of. It's a program that captures that spirit."