GREEN BAY – The pride is palpable the instant Alvin Jones Sr. answers the phone.
The retired Army Command Sergeant Major speaks in a modest, humble tone, though the excitement in his voice spikes each time the conversation pivots to family.
There's his wife, Vurgess, who served 27 years in the Army before retiring last year as a Sergeant Major, and his oldest son, Xavier, currently enlisted in the Air Force.
There's his daughter, Chelsirae, a regional director for a staffing company, and the twins, Alvin Jr. and Aaron. Born within a half hour of each other, the two have become the adopted sons of El Paso, Texas, through their accomplishments on the football field.
The twins' passion for the game has become their parents' passion. It's why Alvin Sr. retired from active duty in January 2013, one year shy of his 30th year of military service.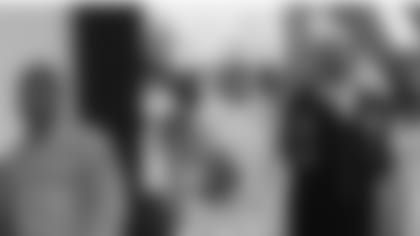 "I actually set my military retirement up so I would be out of the Army at the start of their senior year (of high school)," said Alvin Sr. earlier this week. "Everybody always asked me, 'Why didn't you do that last year?' Well, I had a great reason – my kids."
Alvin Sr. was there for every snap Aaron and Alvin Jr. played at the University of Texas-El Paso, home or away, with Vurgess alongside him other than one game their freshman year.
That tradition has continued this year despite Aaron, a rookie running back with the Packers, and Alvin Jr., a senior linebacker at UTEP, now on opposite ends of the country.
That's what made last Sunday so special for the couple, watching their sons reunite at Lambeau Field prior to the Packers-Saints game. Alvin Jr. has watched every Packers game this year, but UTEP's bye week afforded him the opportunity to watch Aaron play in-person for the first time as a professional.
While some may have been surprised to see Aaron bust out a 46-yard touchdown run on the Packers' opening drive on his way to a 131-yard performance, Alvin Sr. called it before the coin toss. As soon as it was confirmed Alvin Jr. was coming to the game, their father knew what was coming.
"Aaron's agent was there and I told him, 'Aaron is going to have a big game today,'" Alvin Sr. recalled. "He asked me 'Why?' and I said, 'Because his brother is here.'"
That's how the Jones family works. They are strongest when together. While commitment, responsibility and even war separated them at times, they are always there for one another.
To understand Aaron, the Packers' well-mannered rookie fifth-round pick, is to understand the foundation his parents put in place the day he and Alvin Jr. were born on Dec. 2, 1994, in Savannah, Ga.
Alvin Sr. played football for a year, but gave it up to help put food on the table. He picked up two jobs after graduating from high school before enlisting in the Army at 19 years old to discover a world outside of Norfolk, Va.
That's how he met Vurgess. The two began dating when they were stationed together in Korea and married shortly after returning to the United States.
They never pushed any of their kids to play football. The only thing Alvin Sr. desired for his children was to know what it's like to have a dad in their life.
"I grew up without a father," Alvin Sr. said. "I never knew what it was like to go outside and toss the ball around with your dad or those type of things. It meant so much more to me being able to do that with my kids."
Respect was taught at an early age in the Jones household. Every reply began with either, "Yes sir, no sir, yes ma'am, no ma'am," a practice still prevalent in every interview Aaron conducts to this day.
Alvin Sr. and Vurgess never planned on serving for 56 combined years, but that's how it worked out. So the family trotted around the globe with stops in Georgia, Germany, Kentucky, Tennessee, Virginia and finally El Paso in 2007, when Vurgess was accepted into the U.S. Sergeants Major Academy at Fort Bliss.
Alvin Sr. was deployed to Egypt for a year around the same time Vurgess moved the family to Texas. It was one of several lengthy trips overseas each parent made during Alvin Jr. and Aaron's childhood, with the longest being simultaneous deployment to Iraq in 2003.
With Vurgess stationed on one side of the country and Alvin Sr. on the other, the kids went to live with Vurgess' aunt and uncle during that time. On weekends, Alvin Sr.'s brother and sister-in-law would take them.
"I couldn't wait for my parents to come home and get back," said Alvin Jr. with a laugh this week. "Especially since we couldn't talk to him every day."
There was no FaceTime or Skype back then, so Alvin Sr. called and emailed as often as he could to check on the kids and let them know their parents were OK.
It was a worrisome year, but it calcified the bond between Alvin Jr. and Aaron. Close from Day 1, their friendship was rooted in sports. At an early age, Alvin Jr. and Aaron shined in practically everything they did.
It became an easy way to make friends in new places. Whenever Aaron met someone new, they quickly became acquainted with Alvin Jr., as well.
"I mean it was a lot of fun. You couldn't ask for a better upbringing," Alvin Jr. said. "We never wanted for anything. We had to keep our rooms clean and get good grades. That was about it. We did a lot stuff, met a lot of people and traveled to a lot of places. It was just great."
While football was their passion, they started in the same backcourt on the Burges High School basketball team and ran together on a state-championship 1,600-meter relay.
Responsible for a battalion of more than 800 servicemen and women, Alvin Sr. wasn't able to be at every game or meet. That weighed on him for some time, especially as recruiting visits and college crept closer.
"I ran the day-to-day operations of that battalion, so I couldn't just pick up and go when I wanted to," Alvin Sr. said. "That's what made me say, 'OK, they've sacrificed when my wife and I had to go to war.' They sacrificed, they had to go live with someone else and things of that nature. Anytime we got orders to go somewhere, they had to pick up and go and leave their friends. So people often times undermine the sacrifices kids and family members make. I looked at it and said it's time for me to sacrifice for them."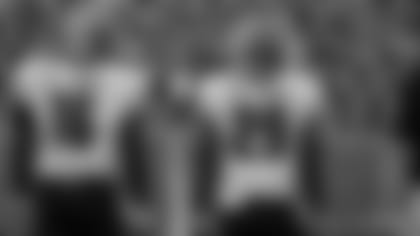 El Paso isn't exactly known as a football hotbed. At least, it wasn't when Aaron and Alvin Jones Jr. entered high school.
The two tore up the field together, but college offers trickled in slowly until two moments changed everything. The first was when Aaron rushed for 335 yards and Alvin Jr. added another 128 in a Texas regional playoff game against Wichita Falls Rider and future Ohio State quarterback J.T. Barrett.
Afterward, the school's coach told Alvin Sr. his team hadn't allowed a 100-yard rusher in approximately seven years.
The other domino was Pittsburgh Steelers offensive line coach Sean Kugler being hired as the new head coach at UTEP. While the Miners already had a scholarship on the table for Aaron, one of Kugler's first moves was to extend offers to both.
Believing they could play early, the two brothers accepted the offer and thrived. After years of traveling, the two found a place to call home in El Paso, propelling the Miners to an appearance in the New Mexico Bowl their sophomore year.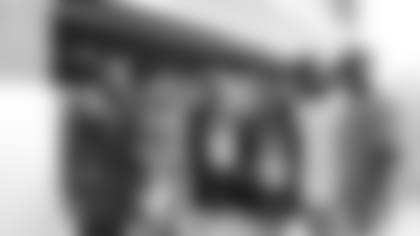 While Alvin currently leads Conference USA with 61 tackles, Aaron made an indelible mark in school annals, becoming the program's all-time leading rusher with 4,114 yards.
It's elevated both to a kind of cult-hero status in El Paso. This past summer, Aaron hosted two free football camps for kids ages five to high school.
More than 1,200 kids turned out for the event at UTEP Stadium.
"It was crazy. There were so many kids," Alvin Jr. said. "They all just wanted to be around Aaron, listen to him talk and take pointers."
UTEP is hoping for another raucous crowd this weekend when Aaron returns for this Saturday's game against Texas-San Antonio, highlighted by his own bobblehead giveaway.
"I've never had a bobblehead made of me before," said Aaron with a smile. "When they thought of the idea and actually showed me, I was like, 'Wow, this is pretty awesome.'"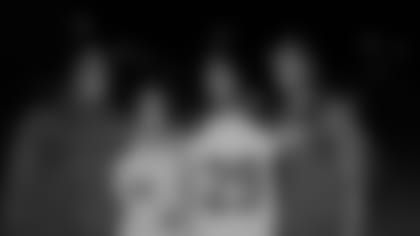 Declaring for the NFL Draft was hard for Aaron. It took several conversations with his parents and siblings before he finally made the choice to forgo his redshirt senior year.
It meant separating from Alvin Jr. for the first time and taking his first step into the real world without family by his side. Still, he knew what had to be done.
"The big thing for him was when he and Alvin sat down and talked," Alvin Sr. said. "They're so close and Alvin told him, 'Hey, you've been working towards this your whole life – it's time to go. Go. We'll be OK.'"
Jones met with nine teams at the NFL Scouting Combine. Afterward, his parents kept all the hats and shirts prospective teams gave Aaron during formal interviews in Indianapolis.
All nine hats were present during the third day of the NFL Draft. As the fifth round moved along, the phone lines started to light up. Baltimore called Aaron to let him know about possible interest in the sixth round, while Dallas texted his agent to let them know Jones was in play for them later in the fifth.
Then, a call came from Green Bay to notify the 5-foot-9, 209-pound running back he was about to become a Packer, and in the process, the first player drafted out of UTEP in nearly a decade.
It was a glorious moment for the family, but Aaron kept his emotions in check. Yes, he was a draft pick and a third-team All-American, but this was nothing more than an opportunity.
There was still work to be done.
"He always had that chip on his shoulder," Alvin Sr. said. "I think that's one of the driving forces for him now. Our thing is 31 teams passed on him, each one of them passed on him five times. He's like, 'Dad, I gotta show them.' I'm like, 'Keep that attitude.'"
Everything has happened so fast. It seems like only yesterday Aaron Jones was a healthy scratch during the Packers' season opener against the Seattle Seahawks.
However, opportunity knocked last month against the Chicago Bears and Jones answered the call after Ty Montgomery and Jamaal Williams exited due to injury.
Before the game, Alvin Jr. joked with his brother about making sure his first NFL carry went for a touchdown. Although that didn't happen – Aaron gained four yards on the play – he ran hard en route to 49 yards on 13 carries.
A week later, Jones started his first NFL game against the Dallas Cowboys. His parents, friends and family made the trip to Arlington as Jones rushed for 125 yards and a touchdown in a 35-31 victory, earning him NFL rookie of the week honors.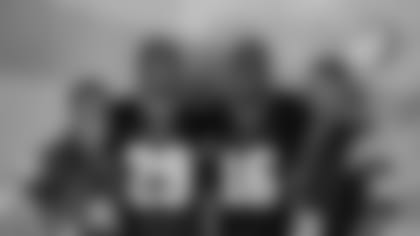 Back at UTEP, Alvin Jr. watched the game with teammates between meetings and weightlifting.
"It was just crazy watching it on TV," Alvin Jr. said. "We're watching it in the locker room and everyone is just going crazy. The Cowboys were our favorite team growing up and he got to do it there in front of everybody, all of our family."
Jones has compiled the fourth-most rushing yards (297) since Week 5 and sits behind only Atlanta's Devonta Freeman with a first-down run percentage of 27.4 percent. His 5.6 yards per carry ranks third in the NFL among backs with at least 6.25 carries per game.
Alvin Sr. and Vurgess have been there for all of it. It's required some pinpoint planning on Vurgess' part, but the couple also has made it to all seven of Alvin Jr.'s games at UTEP without a hitch.
"It's just knowing we always have a support system," Alvin Jr. said. "We always have someone to talk to no matter what or no matter where we go to. We're going to have someone at our games supporting us, even if we're in New York or wherever."
Aaron admits having family in town the week of the Saints game was good for his soul. With his mom arriving Wednesday and twin brother flying in Thursday, Jones couldn't wait to show them around his new home in Green Bay.
The opportunity to take a photo with his brother during pregame warmups also made it a moment he'll never forget. The two have been around the world together and served as each other's biggest motivators.
Now, they were there to watch Aaron play on one of football's most cherished fields.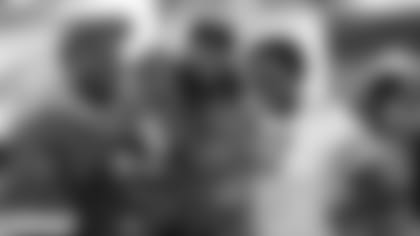 "It was really special," Aaron said. "We talked before the game, after the game. He was excited he got to see some of the players. It's always a treat when I get to have my brother here. I just feel complete."
After the game, Alvin Jr. told Aaron "you look like you belong out there" before adding in a joking manner that he appeared a "little slow" on the 46-yard touchdown run.
Dismissed for the Packers' bye week, Jones returned home to El Paso this week. He even joined Alvin during a visit at a local hospital, trying to lift the spirits of patients and giving gifts to children.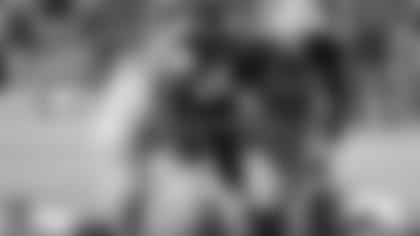 Statistics measure success, but it's that image of their children giving back that brings a smile to the faces of Alvin Sr. and Vurgess.
The two have traveled the world together and seen everything there is to see, but there's no place they'd rather be right now than in the stands every Saturday and Sunday watching their sons live out their dreams.
"What I've told Aaron and Alvin, this is a reward for all the hard work that you guys have put in," Alvin Sr. said. "What mom and I always try to do with them, even now, is make sure they understand why they're successful. That, first and foremost, is the blessing from the man upstairs. Secondly, we try to keep them humble and working hard. No matter how much success you have, there's always something you can improve so continue to work hard, stay humble and good things will always happen for you."