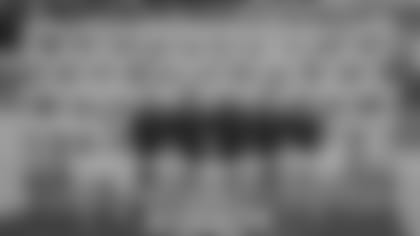 Pictured: (L-R) Bob Buss, Erik Rosholt, Aaron Mack, Aaron Johnson, Mike Michalsky, Not Pictured: Jeff Mack
The Packers have announced that Aaron Mack of Wisconsin Dells High School has been named Green Bay Packers High School Coach of the Week.
Mack, in his fourth year as the head coach of Wisconsin Dells, led the Chiefs to a 6-0 victory over Nekoosa High School. Friday's victory gave the Chiefs their first win over the Papermakers since 2008 and snapped Nekoosa's 19 game South Central Conference win streak.
"Our team has taken on a true underdog mentality," said Mack. "Friday's victory is a tribute to our kids as they continue to buy into our program. This was a huge win for our community and football program from grades 5-12."
A Madison, Wisc. Native, Mack is a 1996 graduate of Madison East High School, where he played quarterback under Wisconsin Football Coaches Association Hall of Fame inductee Wayne Kelliher. After high school, he attended the University of Wisconsin-Stevens Point before transferring to the University of Wisconsin-Platteville where he played quarterback under Mike Emendorfer. Following graduation in 2001, Mack accepted his first coaching position as the quarterbacks coach for the University of Wisconsin-Platteville. Starting in 2003, Mack spent four years as a graduate assistant quarterbacks coach at the University of Wisconsin-Madison before accepting his first head coaching position for the Iowa-Grant football program in 2007. In 2011, Grant was offered his current position as head coach for Wisconsin Dells High School. Mack is also the school's activities director.
Mack and his staff oversee a program of 39 players, including a varsity roster of 16. His assistant coaching staff includes Bob Bus, Jeff Mack (father), Mike Michalsky, Aaron Johnson and Erik Rosholt.
About the Green Bay Packers High School Coach of the Week Program
The Packers will recognize one outstanding high school coach as their 'Coach of the Week' winner during the 2014 high school football season. Winners are awarded several items and privileges, including a $1,000 donation to the school's football program from the Green Bay Packers and the NFL, as well as recognition of the award on Packers.com, Wissports.net and Wifca.org.
Nominations for Coach of the Week should be submitted by 10 a.m. every Monday to Tim Schroeder, youth football coordinator, at coachoftheweek@packers.com or by fax at (920) 569-7302. Please include the nominee's name, address, school, phone number and reason he/she is deserving of the award.