GREEN BAY – Marquez Valdes-Scantling knows what's expected of receivers at this level. The NFL is a full-time job and there can be no letup.
So when Packers quarterback Aaron Rodgers challenged the team's young receivers following Tuesday's practice, the rookie fifth-round pick out of South Florida got the message loud and clear.
"You've got a Hall of Fame quarterback over there, and if he's telling you that you're not doing it right, you've got to change what you're doing," Valdes-Scantling said. "We have to be pros all the time. We can't be pros for just three-fourths of practice. You've got to be it all the time."
While Rodgers didn't dress for Thursday's preseason opener against Tennessee, Valdes-Scantling put his best foot forward with the Packers' backup quarterbacks and led all Green Bay receivers with five catches for 101 yards and a touchdown in a 31-17 victory over the Titans.
A bulk of that production came on two specific plays. The first, a second-and-30 scenario early in the third quarter, came in the form of a 51-yard completion from quarterback DeShone Kizer. The play set up a 1-yard Joel Bouagnon touchdown run to put the Packers ahead, 14-10, a lead from which they wouldn't look back.
In the fourth quarter, Valdes-Scantling showed what he can offer in the red zone. Properly shifting his body to find the ball, the 6-foot-4, 206-pound receiver brought down a 15-yard touchdown in the back of the end zone from Tim Boyle.
While Valdes-Scantling missed his shot at a Lambeau Leap – which his teammates playfully teased him about on the sideline – he was happy to show his skills go well beyond his 4.37 speed.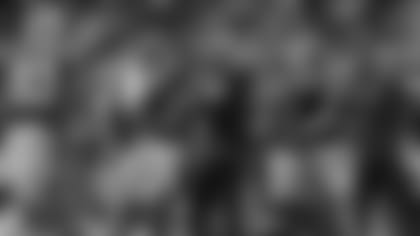 "That was one thing I wanted to work on coming out of college; I ran a lot of just go routes and short routes," Valdes-Scantling said. "To be able to show that I can run different routes is big for me."
The Packers' receivers held a quick meeting following Tuesday's practice and vowed to not have another letup in practices moving forward. The group responded the right way against the Titans on Thursday.
Rookie sixth-round pick Equanimeous St. Brown caught four of his six targets for 61 yards, while J'Mon Moore added three passes for 27 yards to help power Green Bay's offense to 445 total yards.
"I think everyone in life has ups and downs, it's just how you attack it and go about it," St. Brown said. "I think I'm good at it. That's what makes pros pros – being good at the ups and downs."
It's still only one game. Valdes-Scantling knows it's going to take more performances like Thursday to earn a spot on the Packers' 53-man roster and build trust in Green Bay's offense.
"You never want to get too high, you never want to get too low," Valdes-Scantling said. "It was a great game. I'm going to live on it for a little bit, then move on and get ready for next week."
Go deep: An evening that began with Brett Hundley hitting Pro Bowl receiver Davante Adams for a 48-yard completion ended with Boyle connecting with Jake Kumerow for a 52-yard touchdown.
A practice-squad holdover from last year's roster, Kumerow has been off to hot start to training camp. The 6-foot-4 receiver kept the momentum going against the Titans in catching three passes for 76 yards, including his deep connection towards the end.
With Kumerow beating his man down the sideline, Boyle led the former UW-Whitewater standout perfectly down the sideline for the score. Fittingly, Kumerow finished the play off with his first Lambeau Leap.
"It was a great shot. We had a good play called," he said. "The O-line definitely held their ground and Boyle put the ball on the money. I did my job and ran right through it."
After spending three training camps in Cincinnati from 2015-17, Kumerow is hoping his fourth shot at making an opening 53-man roster is the charm. So far, he's off to a good start.
"It motivates me. That's my goal each and every year," Kumerow said. "Until I reach that goal, I'm just going to keep on being motivated. Then, hopefully when I do, it's going to keep climbing from there and be the best I can be."
Hundley's 48-yard toss to Adams set the standard for Green Bay's day on offense. With Adams gaining vertical separation from All-Pro cornerback Malcolm Butler, Hundley threw a near-perfect ball to hit his Pro Bowl receiver in stride.
"Just trusting Davante," said Hundley, who completed 9-of-14 passes for 108 yards, one touchdown and one interception. "Butler's a great corner, but at the end of the day I still like the matchup with Davante. He beat him, I just gave him a good ball and he made a good catch."
Taking it away: New defensive coordinator Mike Pettine kept most of his plans for the 2018 season under wraps, but he still managed to put his young defenders in a position to make plays.
Case in point was the first play of the fourth quarter when rookie seventh-round pick Kendall Donnerson forced a fumble of Titans running back Akrum Wadley, which Packers linebacker Vince Biegel recovered at Tennessee's 28-yard line.
"KD forced it and I was lucky enough to get on it," Biegel said. "It was a good play. There's definitely some things to clean up, but we did some good things tonight."
Leader of defense: Once Blake Martinez's night was over, rookie linebacker Oren Burks got his first taste of relaying the defensive calls.
The rookie third-round pick out of Vanderbilt has been working with Pettine in practice the past two weeks, but Thursday was the first time he'd worn the communication helmet in an in-game setting.
"It felt pretty good," said Burks, who played into the third quarter and led the defense with six tackles. "It's really what you get in practice, trying to rep it every day and get clear communication out to the guys. It's something I've been working on and being intentional about it."