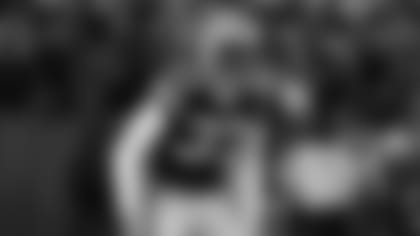 Click here

for a photo gallery of Hyde's rookie season.
GREEN BAY—Micah Hyde got the message from the get-go.
"I came in here Day 1 and they said be prepared for anything," Hyde said.
He was, playing both the nickel and dime spots on defense. He also returned punts and kicks. Covered them, too.
There wasn't much Hyde didn't do as a rookie for the Packers in 2013, and when the season ended, he said repeatedly he was "thankful" for all the opportunities he got to play.
There were more than many expected for a cornerback supposedly too slow to be drafted higher than the fifth round, but the bottom line is Hyde earned every chance he got – beginning with duties as the nickel corner in the season opener at San Francisco – with his combination of maturity, football intellect, instincts and athletic ability, the speed knock notwithstanding.
His work at the nickel and dime spots on defense, which are slot corner positions that come with constantly changing duties, proved especially valuable when second-year pro Casey Hayward missed almost the entire season due to injuries.
"To be smart enough to be able to do both (positions) where you're really playing a linebacker-type position and there's a lot of communication that goes along with that, he improved with that as the year went on," cornerbacks coach Joe Whitt Jr. said.
"He showed the ability to tackle, showed the ability to blitz, showed the ability to take on linemen, so I think that the future is bright with him."
Asked how a player passed over for four-plus rounds in the draft could show up so soon, Whitt pointed to the two veterans and starters in the cornerback group – Tramon Williams and Sam Shields – who came into the league undrafted and know what it means to bring younger players along.
"Most of the guys in my room were passed up, so it goes to the character of the men, the way that we work together," Whitt said. "Micah would tell you the men in the room helped him as much as anybody. It helps the progression of the whole room.
"We don't have any selfish men in the room. When you attack it that way, younger players can progress more quickly. That's why I think Casey blossomed last year, and now Micah."
A regular on the coverage units on special teams (he finished third on the team in coverage tackles), Hyde also took the punt-return duties and ran with them following a strong showing at Baltimore in Week 6. Two weeks later at Minnesota, he ran a punt back 93 yards for a TD, the team's longest in six years, and he finished with a 12.3-yard average.
Having not returned kickoffs since high school, Hyde worked his way into that job as well late in the season, and ran one back 70 yards vs. Pittsburgh.
"He's an excellent ball-handler," special teams coordinator Shawn Slocum said. "Catches the ball well, makes good decisions."
The Packers may have an offseason decision to make with Hyde. Depending on what happens with the upcoming draft and with Shields in free agency, the defense could have more use for Hyde at safety than as a nickel or dime corner. Hyde played very little if any outside corner all season.
Both Hyde and Whitt conceded it's not their call to make, and he remains a cornerback for now.
"I want to do whatever's best for the defense," Whitt said. "If he's one of the best 11 and we need him on the field, what our nickel and dime does is very similar to what our safeties are asked to do. His skill set can fit that, so whatever's best for the defense we'll do."
In the meantime, the rookie standout has a long offseason to think about the play that could have made him a rookie legend – the potential interception of 49ers QB Colin Kaepernick at the San Francisco 30-yard line with just over four minutes left in a tied NFC wild-card playoff game.
With a leaping attempt, Hyde got his hands on the ball but couldn't haul it in. Whitt called it a "hard play" but one that could have been a "signature play" to close out a game. For Hyde, it's simply a moment he's sure he'll never forget.
"I don't think that's going to happen," he said. "I'm not saying I'm going to be doing more push-ups just because of it, but I'll definitely think about that, and coming into next season, I'll try to make myself better because of it."
That's Hyde's next step – improvement. Within the Packers' draft-and-develop philosophy, it's players like Hyde whose strides from their first to second seasons are vital, who can make the biggest impact.
Those types of expectations don't bother Hyde, though. It's how he was raised in college at Iowa, and he wouldn't have it any other way.
He'll be ready for anything, again.
"It's exciting. Coach (Kirk) Ferentz taught us the same way," Hyde said. "He said you have experience now, and we expect you to go out there and be a lot better player because of it, and that's the way I see myself.
"I'm thankful for this opportunity, and I guarantee I come back next season a much better player. You can write that down as a guarantee. That's just the way I feel and the way the mentality is around here."