GREEN BAY—Anything considered a Green Bay Packers tradition is a big deal to Head Coach Mike McCarthy, and the annual "65 Roses" celebrity golf tournament is no exception.
As Packers head coaches have done since 1988, McCarthy once again served as the honorary chairman of a key local fundraiser for cystic fibrosis, held on Monday at Green Bay Country Club.
The event, which features Packers coaches, scouts and a handful of former players teamed with public groups for a golf scramble format, raises proceeds for the Cystic Fibrosis Resource Center at St. Vincent Hospital in Green Bay and the Wisconsin Cystic Fibrosis Foundation for in-state research efforts.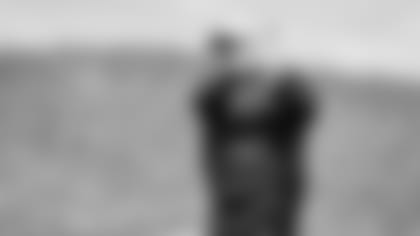 Cystic fibrosis is a genetic disorder that can cause debilitating lung infections. "65 Roses" is a reference to what children who have the disease often call it because it's so difficult to pronounce.
"Our history and our tradition for the Green Bay Packers far exceeds what happens on the football field, and this tournament definitely represents that," McCarthy said, shortly before teeing off on Monday. "It's a privilege to keep this tournament going, raise the money for cystic fibrosis, a great cause. It's a special event."
When McCarthy arrived at Lambeau Field early Monday morning to get some work done before the tournament, temperatures were in the low 40s and he wasn't sure what the day would bring.
But eventually sunshine, blue skies and a little breeze prevailed to make it near-perfect golfing weather as the event continued to climb above the $600,000 mark for total money raised, a level it eclipsed last year.
"I think it's very important to give back, anytime you're in a position that I hold with being the head coach of the Green Bay Packers, or whatever level of achievement you're a part of," McCarthy said. "It is so important to give back to the community, because at the end of the day, it's about making every place that you've touched a better place, and I definitely feel that is the focus with this event, and the ability also to try to help children at every opportunity."
The golf outing provided a brief respite for McCarthy before the final two weeks of the team's offseason program, which continues on Tuesday with the annual mandatory minicamp.
McCarthy said the minicamp practices won't look much different than the OTA workouts held over the past couple of weeks. One more week of OTAs remains next week before an extended break prior to training camp.
"The schedule is pretty much the same; what we're trying to accomplish on the field is the same," McCarthy said of the minicamp. "We'll continue our installation phase. It's still about getting everybody on our 90-man roster exposed to everything they're going to be asked to do when training camp starts.
"It's about making sure we get everything installed before the end of the offseason program."