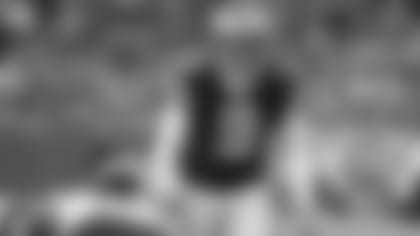 QB Seneca Wallace
GREEN BAY—Three seasons ago, when Mike McCarthy was getting Matt Flynn ready to start a game in place of Aaron Rodgers, the head coach and QB guru learned an important lesson.
"It's really not to overthink it," McCarthy said on Wednesday, recalling the offensive preparation for Flynn to take the helm at New England in Week 15 of 2010. "It was important to go into that game and cut Matt loose and play the way we felt we needed to play to win the game."
Flynn almost pulled out a victory, looking much better after a full week of practice than he did the previous week coming off the bench unexpectedly in Detroit.
It might be asking too much of Seneca Wallace to repeat what Flynn did, considering Flynn had three training camps in McCarthy's offense under his belt by that time and Wallace arrived in Green Bay just two months ago as a Week 1 signee.
But Wallace getting that week of preparation now has everyone – Wallace included – counting on a better performance than Monday's rough relief outing against Chicago.
"It makes a huge difference, when you're able to get snaps with the ones, and to be able to see things clearly, that helps you out big-time," said Wallace, who was only taking a handful of snaps with the first-team offense each week until now.
"Figuring out timing and things like that with the receivers, just from a comfort level, it helps out. The biggest thing is to get as comfortable as possible as quickly as possible."
Realistically, almost nothing could be more difficult than the challenge Wallace faced against the Bears. Wallace is an experienced veteran, but until coming to Green Bay, he had been out of football since being cut by the Browns at the end of training camp in 2012. His last snaps in a regular-season game came in Week 17 of 2011, the same day Flynn was setting the Packers' single-game passing yardage record in place of a healthy Rodgers.
"Knowing what kind of plays we're going to call when we go into the game instead of just being thrown into the fire, I think he'll be a lot more comfortable out there this Sunday," receiver James Jones said.
Coming off the Monday night game, the Packers conducted a short practice at walk-through pace on Wednesday, which Wallace called "a good teaching day." Rodgers was by his side throughout and will continue to be as the on-field work cranks up on Thursday and Friday.
For what it's worth, that's something Flynn didn't have, because Rodgers was out with a concussion then and wasn't around the facility for meetings or practice.
"Aaron's going about it just as if he's playing in the game," McCarthy said. "It's important for him to stay mentally sharp. He's an excellent teammate. He's going through it right next to Seneca, and he's involved."
McCarthy added that Sunday's opponent, the Philadelphia Eagles, play at a fast pace on offense they try to match with a certain level of aggression on defense, particularly with pressure packages.
So while the game plan must fit what Wallace does best, it also must be designed to counter Philadelphia's defensive tendencies. There's some give and take to that dynamic, but Wallace said it himself, that he has to "cut it loose" and "don't be hesitant."
McCarthy has been here before, and so has Wallace, with 21 career starts, many as an elevated backup. The coach has the plan, and the quarterback knows the drill.
"Obviously, I'm not going to be Aaron Rodgers. He's been doing great things here for years," Wallace said. "My job is to just try to go in and maintain things at a good level, and win some ballgames until he can get back healthy. That's my job." Additional coverage - Nov. 6