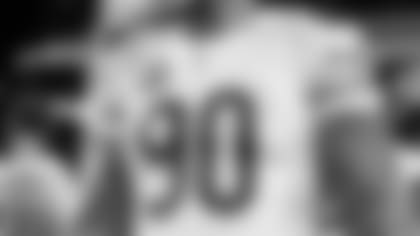 Julius Peppers
ORLANDO—Mike McCarthy believes his football team "on paper" is better now than it was at this time a year ago, and that would suggest that McCarthy is expecting improvement on defense, just as he accurately predicted an improved running game last spring.
It would seem the recent acquisition of free-agent defensive end Julius Peppers is at the heart of McCarthy's on-paper assessment of his team, which he provided on Tuesday to Packers media covering the NFL "Annual Meeting" in Orlando, Fla. McCarthy offered a snapshot of how he plans to use Peppers in Defensive Coordinator Dom Capers' scheme.
"He'll be a multiple-position player," McCarthy said. "Elephant is a term used for a multiple-position player. Julius will be part of that group."
That could mean many roles for Peppers. He could be used as a hand-on-the-ground defensive end in 3-4 and 4-3 alignments, or as a linebacker, much as Mike Neal was used last season.
Does that mean more scheme? Just the opposite, McCarthy said.
"We want more personnel groups, less schematically," the Packers head coach said. "The scheme is there. We're not putting a whole new scheme in. If anything, we're taking things out."
So, are the Packers still, by design, a 3-4 defense? It's a question McCarthy answered with a question that only served to raise more questions.
"Are we a 3-4 team now? Our origin is. How much 3-4 defense do we actually play? We're a sub personnel defense," he said.
McCarthy was understandably unwilling to provide specific details of his plans for his defense in 2014, but it's clear to see changes are in the works and that Peppers is at the root of those changes.
"He has more to offer, in his opinion, from an assignment standpoint, and I agree with him. We'll have more flexibility with him," McCarthy said.
McCarthy answered questions that ran the gamut of issues confronting the Packers as they head into a spring offseason program that's to begin on April 22.
The team's perceived need at safety and the potential for cornerback Micah Hyde to join Morgan Burnett at one of the two safety spots?
"I'm very comfortable with Morgan Burnett. Morgan has a lot of high value to our football team. Micah Hyde deserves the opportunity to be an every-down player. Micah was standing on the sideline too much. We're going to give Micah a chance to play on all three downs," McCarthy said.
"I want to keep him over the center, the A gap, more. The way he's been used in the past, we can do less of that. I think we need to get him back over center," McCarthy said.
"He's still being evaluated," McCarthy said of the tight end, who's a free agent as he rehabs from neck-fusion surgery. McCarthy repeatedly cautioned as to the seriousness of Finley's injury.
"I'd like to have Matt back. I hope financially it'll work out," he said of the free-agent quarterback, who replaced Aaron Rodgers late last season and rallied the Packers to a record-setting win in Dallas that helped propel the team to the NFC North title.
"He was really starting to take off in training camp. The ankle injury was worse than we probably thought. I thought he came on strong at the end of the season but didn't have the opportunity," McCarthy said of the Packers' 2013 first-round draft pick.
The center position, where the Packers have lost Evan Dietrich-Smith in free agency?
"We have options," McCarthy said, mentioning J.C. Tretter, Josh Sitton, T.J. Lang and Don Barclay as providing those options.
The decision to play Bryan Bulaga at right tackle?
"It's where he has the most experience. We had a full season of David (Bakhtiari) and Josh (Sitton) (on the left side). You want to play your best five," McCarthy said.
"When you look at injuries, I don't feel I've hit the target. The offseason program will be different and training camp will be, too," McCarthy said.
Change is clearly at the heart of the Packers' offseason plans, and it would seem to begin on defense. More from the Annual Meeting