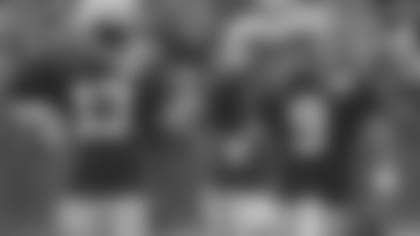 QBs Vince Young (13) and B.J. Coleman (9)
GREEN BAY—It's been six years since the Packers had four quarterbacks in training camp, but Mike McCarthy hopes to play them all in the preseason opener on Friday.
McCarthy managed to pull off the feat in 2007 with Brett Favre, Aaron Rodgers, Ingle Martin and Paul Thompson in the opener in Pittsburgh, though the rest of that preseason, no more than three QBs played in a given game.
Based on the way the practice snaps were divided on Thursday, it's a good bet B.J. Coleman and newcomer Vince Young will get a fair share of the work against Arizona behind Rodgers and top backup Graham Harrell.
Coleman will be looking to bounce back from a rough scrimmage last weekend and some up-and-down practices, while Young – with just three days of practice under his belt – simply needs to increase his comfort level with the offense.
"He's definitely playing uphill right now, and that's just from the mental transition he's going through," McCarthy said of Young. "Frankly, it's the responsibility of the coaching staff, particularly myself calling the game, to get him comfortable to where he can just go play. That's what we'll be working on here the next 30-plus hours."
Young said he plans to discuss with McCarthy the plays he feels he can run. A 50-game starter in his NFL career, Young has more experience than any backup quarterback in McCarthy's tenure, but he's being realistic about what he can expect to do right away.
"I just want to make sure I've got the right plays, make sure I get the guys out of the huddle," Young said. "I don't want any delay of games or things like that. That's the biggest thing about being a quarterback, getting guys into the right position and running the right routes."
The offensive line could be resorting to various combinations to get through the preseason opener. With Bryan Bulaga, Derek Sherrod and JC Tretter already sidelined, T.J. Lang (back), Andrew Datko (concussion) and Lane Taylor (personal) missed practice on Thursday, leaving just nine available linemen.
Taylor could be back on Friday, but that would still leave the unit with fewer substitutions than usual at this stage.
"It's definitely not where you want to be," McCarthy said. "If we line up tomorrow with nine offensive linemen, we're going to have a player or two play positions they haven't had a lot of reps in. That goes back to why you rep the offensive line the way you do. It's situations like this. Anytime a player can show more value as far as his flexibility within his unit, it definitely helps him."
Don Barclay has been one of those flexible players, taking snaps at both guard and tackle of late after working at center earlier in camp. Barclay was with the first unit at right guard in Lang's place on Thursday.
The lineman garnering the most attention, of course, will be rookie left tackle David Bakhtiari, who is taking over for the injured Bulaga. He will line up with the starters but stay in for a longer stretch, McCarthy said, because he "needs to play."
Bakhtiari has held his own in practice against the likes of Clay Matthews and the Packers' other starting defenders, but the four preseason games will provide the ultimate measure of his readiness for prime time.
"His tools are fantastic, he's very athletic, has long arms," said Matthews, who got to know Bakhtiari and worked out with him before the Packers drafted him in late April. "I'm excited for him, as a friend and as a teammate, and I think we're really counting on him now, especially with Bryan going down. You hate to see that, but it's next man up, and he's that guy.
"We're not going to look at him as a fourth-round rookie, we're looking at him as our starting left tackle. He's got every opportunity to win this job, and I think we're all pulling for him."
Multiple injuries at receiver and defensive back have given numerous young prospects more practice snaps than they could have expected going into camp, and for many, Friday night will mark the biggest game of their lives to date.
McCarthy called the preseason games the "tiebreaker" when it comes to differentiating between players who have performed well in practice. The game action is what the coaches and scouts discuss the most in their evaluations, and the players know it.
"Once you get into a game, it kind of changes. When the lights come on, some guys shine, some guys kind of fall under," said receiver Randall Cobb, who was limited in practice due to a bicep injury for the second straight day but said he could play if the coaches want him to.
"Practice is one thing, and we've had some guys doing really well in practice, but once the lights come on, it's going to really be the test for them." Additional coverage - Aug. 8