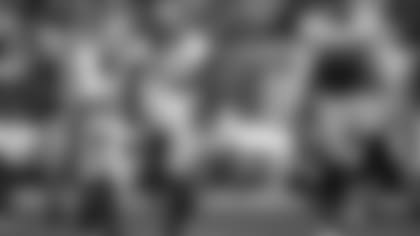 GREEN BAY—It's so obvious, Mike McCarthy didn't even need to say it, but he did anyway.
"We need to improve, clearly," McCarthy said of what he's looking for in the second preseason game, which is on tap Saturday night in St. Louis.
"I want to see a big improvement in the offense. I was disappointed in how the offense graded out."
The offensive statistics from the preseason opener against Arizona were an indicator the grades would be less than satisfactory.
Thirteen first downs, 223 total yards, 2.7 yards per rush from the running backs, three sacks, two turnovers, zero points. That last one probably sticks in McCarthy's craw more than anything.
Sure, it's just the preseason, and the Packers could have taken a field goal on their opening drive rather than go for it on fourth-and-goal from the 2, but McCarthy uses the preseason to put his players in certain situations to see how they respond, and that's not going to change.
He just wants to see a better response, whether it's from the starters or the second- and third-unit players who are fighting to make the roster.
"We've gotten better as a team this week, but ultimately your performance on gameday is what counts, and that's the step we need to take," McCarthy said.
"We have to get these guys ready to play, and we have to find out how well they can play and who's going to be on our team. It's really as simple as that."
McCarthy suggested the quarterback rotation would be similar to last week, meaning Graham Harrell will follow Aaron Rodgers, and Vince Young will follow Harrell. That was the order on the practice field the past three days.
Running back Eddie Lacy should make his debut after missing the preseason opener with a hamstring injury, but fellow running back DuJuan Harris will not play. Harris missed most of OTAs and then, due to a knee injury, didn't practice in camp until this week, when his reps were limited.
"He's ready, but we just wanted to bring him back in a limited fashion this week, and he'll be 100 percent next week," McCarthy said.
There could be two notable changes up front. Don Barclay could get the start at right tackle over Marshall Newhouse after taking the first snaps at that spot the past few days. Also, center Evan Dietrich-Smith missed Thursday's practice with a toe injury, and if he sits out, Greg Van Roten would start at center.
Van Roten, the second-year lineman from Penn, looks to be developing into this year's Dietrich-Smith, meaning a multi-position backup. He has played center and both guard spots, and he even played some tackle in the preseason opener last week as he bounced back from a slow start to camp.
"He's improved, particularly the last 7-10 days," McCarthy said of Van Roten, who took all the center snaps with the No. 1 line on Thursday. "But then there are a couple of things today that weren't very clean. It's different when you get in there and you're the guy.
"If he does get to start, this will be a huge experience for him and part of his evaluation."
The same goes for receiver/returner Jeremy Ross, who should get the first crack at returns and a number of snaps from scrimmage with Randall Cobb (bicep) missing the last two days of practice and likely the game.
Against Arizona, Ross nearly broke his second kickoff return for big yardage, but a route mix-up on offense led to a collision with another player and an interception for Harrell.
That's been an unsettling pattern with Ross, according to McCarthy. The coach said Ross "makes a play every day" that grabs the coaches' attention, but he must eliminate the negatives and show more consistency.
"Have that game A through Z," McCarthy said. "Just have a complete game. There's been that one (bad) play a game, and that's the hump you want to see him and a lot of guys get over." Additional coverage - Aug. 15