GREEN BAY – There's never any downplaying the importance of division games on a team's schedule.
They're the clashes with the biggest rivals and against the most direct competitors for a postseason berth.
As the Packers transition to Jordan Love as their new starting quarterback in 2023, their schedule is shining an even brighter spotlight on the NFC North contests than would inevitably exist anyway.
Love's first game as the new QB1 will be at Soldier Field in the late-afternoon national TV window.
His first home division game will take place on Thursday Night Football against the Lions.
His first start at Detroit comes on Thanksgiving Day.
His first trip to the noisy confines of U.S. Bank Stadium in Minneapolis will be in primetime on New Year's Eve.
And if the Week 18 Packers-Bears matchup at Lambeau Field has anything at stake, it's sure to find a premium broadcast home and time slot as well.
So if Love can shine when the Packers are a featured attraction, that success could go a long way in the NFC North standings.
As most teams do, the Packers have placed a major emphasis on division games for quite some time now, and it has served them well.
Back in 2006, Mike McCarthy's first season as head coach, the Packers finished just 8-8, but they actually went 5-1 in the NFC North that year, including three straight division wins to close the season.
That set a tone for division dominance that helped produce six NFC North titles over the next 10 years.
Similarly, when Matt LaFleur took over in 2019, the Packers won all six division games, and eight straight before an initial loss midway through 2020. Under LaFleur, Green Bay was 15-2 in division games, winning three straight NFC North crowns, until resting starters in the '21 regular-season finale at Detroit.
The Packers, of course, did not win the division in 2022 as they fell to 8-9, and they won't be anybody's favorite to recapture the title this year with the obvious change and youth movement taking place on offense.
But if history is any guide, Green Bay's NFC North foes had better seize the chance they most assuredly believe is at hand. Since the inception of the current division alignments in 2002, the Packers have failed to win the NFC North in consecutive years over only three stretches – 2005-06, 2008-10 and 2017-18 – and that three-year "skid" in the middle included two playoff appearances and a Super Bowl crown.
It's a lot for Love to live up to. But the way this schedule lays out, if the Love era can begin with some measure of success against the division, it'll double as proof the young QB can handle however bright the lights get.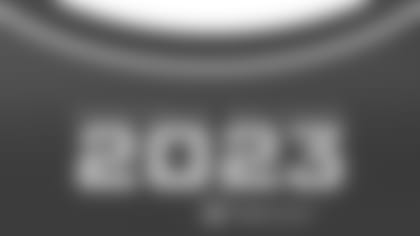 2023 Packers Schedule
See who, when, and where the Packers are playing in 2023!