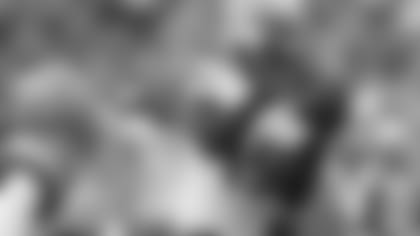 Vikings WR Greg Jennings
ORLANDO—As the opening day of the NFL's "Annual Meeting" began, team owners and executives left the meeting room with smiles on their faces, which could only mean one thing: a favorable financial report.
Meanwhile, back in Green Bay, Packers General Manager Ted Thompson had to be pleased by the late-day news that the Packers would receive third- and fifth-round compensatory draft picks as a result of having lost Greg Jennings and Erik Walden in free agency in 2013. Thompson isn't attending this week's "Annual Meeting" due to a personal matter. He continues to work on the upcoming draft.
Packers President and CEO Mark Murphy described the financial report the league presented on Monday as including a "pretty significant increase (in revenue) because of the new TV deals kicking in, as well as the Thursday night package. Financially, we're in really good shape," Murphy told reporters following the first volley of meetings at the Ritz-Carlton Hotel.
In a brief press conference to end the day, NFL Commissioner Roger Goodell spoke of making good on his promise to players that the Collective Bargaining Agreement to which owners and players agreed in 2011 would allow the league to pursue long-term media deals that would drive revenue higher.
"You're seeing increases in revenue and you're going to see increases in the salary cap as a result of that, and that's a positive thing," Goodell said.
Goodell's comments followed recent remarks by NBA team owner Mark Cuban, predicting doom for the NFL as a result of over-exposing itself. If Cuban is to be proven prophetic, it apparently won't be any time soon.
"I would say we have to be cautious," Murphy said in response to Cuban's remarks. "We're obviously in a very strong position now. The growth has been well thought out."
NFL Network is one of the NFL's major vehicles for growth. After a shaky start that made NFL Network more of a money pit than a money maker, the network is becoming an increasingly more major player in televising of NFL games and events. Next season, CBS will combine with NFL Network to help deepen the Thursday night package, which is beginning to rival Monday Night Football in fan appeal. In all, 16 "Thursday Night Football" games will be televised, with CBS helping deliver games to viewers NFL Network doesn't service.
The NFL also announced the adoption of two fan-friendly initiatives: a pay-as-you-play policy for postseason games and a variable-pricing concept that will be most welcome by fans in the preseason. Murphy said the pay-as-you-play policy will be immediately adopted for the 2014 postseason; fans will not be charged for postseason tickets until the team is in the playoffs and the game is scheduled.
As for variable pricing for the preseason, Murphy said: "We have not made a change but we're looking at it for future years."
What is the No. 1 issue confronting the league as its owners meet this week?
"I still think the really big issue is health and safety," Murphy said, especially as it pertains to "the drop off in participation in youth football.
"The popularity of the league has remained very strong. With the new TV deals kicking in, revenue should grow over the next 8-10 years," Murphy said. More from NFL Annual Meeting: