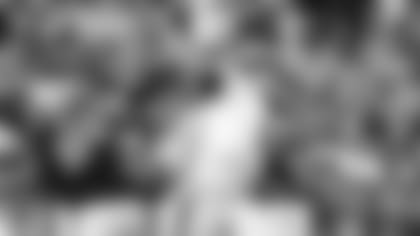 Eagles QB Nick Foles
GREEN BAY—This was supposed to be a shootout between Aaron Rodgers and Michael Vick, but when the Packers and Eagles meet at Lambeau Field on Sunday, Seneca Wallace and Nick Foles will be the starting quarterbacks. Will Sunday's game be a shootout?
Rookie Eagles Head Coach Chip Kelly will likely try to guide the game in that direction. Foles threw seven touchdown passes in a 49-20 win over the Raiders this past Sunday. Wallace, replacing Rodgers just one series into Monday night's eventual loss to the Bears, threw for just 114 yards.
"We've been in the same situation. I don't think your offense drastically changes. Seneca has been in the league for a long time and I think he has a good understanding and grasp of that system. Their offense obviously does change because Aaron's one of the all-time great quarterbacks, not just of this era, but of many eras, so I think it's gotta change. We're still preparing for all the other guys that are healthy and ready to go and expect a hell of a game," Kelly said.
Kelly is the author of the "Quack Attack" with which he took college football by storm at Oregon, which earned him passage into the NFL. The foundation of Kelly's offense is rooted in play count: Fatigue the opponent by making him play a game with which he is not familiar.
At 4-5, Kelly hasn't taken the NFL by storm, yet, but his impact is becoming more visible with each passing game. Through nine games, the Eagles and their opponents have run 1,271 plays. By comparison, through eight games the Packers and their opponents have snapped the ball 1,028 times.
This one has shootout written all over it, unless the Packers defense can do what it didn't do against the Bears: get off the field on third down.
"Sometimes it's a tool in a toolbox," Kelly said of his up-tempo offense. "It's not something we do all the time. It can make the defense line up quicker, play at a different speed than they normally practice or play at. I think it's a weapon just like three-tight-end offense is a weapon, just like five-receiver offense is a weapon, just like an empty formation is a weapon. It's just something that adds to your skill overall on offense."
With Wallace at quarterback, can the Packers play the Eagles' up-tempo game?
"We expect everything. Mike (McCarthy) is such a good football coach. It would be very wrong of us to short-change them on anything they can do. They have a lot of weapons in (Jordy) Nelson, getting healthy a little bit at receiver, getting (James) Jones back. I think the offensive line is playing well and when you see how (James) Starks and (Eddie) Lacy are running the ball right now, we expect a huge challenge on Sunday," Kelly said.
Both teams are playing behind backup quarterbacks. The difference is that Wallace went into the Bears game as the Packers' backup, whereas Foles got a week of preparation as the Eagles' starter heading into the Raiders game.
"Really good week of preparation. I thought we protected him. Nick played really, really well, but I thought we protected him really well and I thought our receivers had a big day, too. But he was extremely accurate with his throws," Kelly said of Foles.
"I think that's the biggest dilemma for every coach in the NFL. How do you get your second quarterback reps? You know, you can't. You have to get your number one guy started. Going into the game Aaron wasn't hurt so you're trying to get Aaron as many reps as you can so he's prepared to play. It does help, I'm sure, for Mike to have Seneca in there and getting reps in practice," Kelly added.
Wallace vs. Foles doesn't have the same ring as Rodgers vs. Vick but, nonetheless, Kelly will likely try to make it an offensive showdown. Additional coverage - Nov. 6