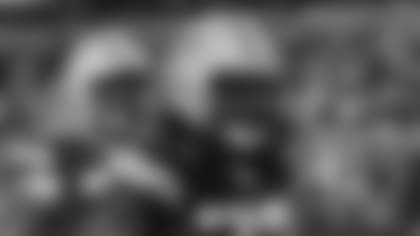 RB Eddie Lacy
GREEN BAY—The Packers offense went from borderline dysfunctional in the first half to practically unstoppable in the second half in Dallas on Sunday, but there was no wave of a magic wand or deep dive into the playbook to get things turned around.
"We just played clean football in the second half," Head Coach Mike McCarthy said on Monday. "I didn't run any trick plays, didn't run any deceptives, we didn't do anything exotic. We just wanted to get after them fundamentally, and that's what we did."
The Packers had less than 100 yards of offense before running back Eddie Lacy's 34-yard catch and run against a prevent defense on the final play of the first half.
In the first quarter alone, there were five negative plays, plus a penalty. Dropped passes, off-target throws and an interception didn't help matters in the second period.
In the Packers' mind, it wasn't the Cowboys' defense bogging them down, it was their own execution. Offensive Coordinator Tom Clements said there was no discussion of replacing Matt Flynn at quarterback, though.
The onslaught began with Lacy's 60-yard run out of a full-house backfield set on the first snap of the second half, a call McCarthy referred to as "going back to the basics." Over their next 37 snaps, the Packers scored five touchdowns, piling up more than 300 yards on those five possessions.
"That just kind of ignited us, and we were able to score on that drive, which was big," Clements said of the way the second half started. "You hit a couple passes, you start feeling good, you start moving the ball, and it's a snowball effect."
Early on, Flynn was getting stuck on his first read too long, but once he started playing faster, the receivers started making plays, Clements explained. Jordy Nelson's touchdown grab over top of cornerback Orlando Scandrick preceded other big catches, including Nelson tipping the ball to himself on a crossing route and Jarrett Boykin making a superb adjustment to haul in a back-shoulder throw along the sideline.
Tight end Andrew Quarless also came up big with a trio of third-down grabs to move the chains. Quarless has six catches for 66 yards and a TD in each of his last two games and is becoming something of a go-to guy for Flynn.
"The last two weeks, he's starting to look like that guy we all felt was going to be a dynamite player," McCarthy said. "He's getting back. When you overcome a major injury, some guys don't ever get back to the way they were moving or feeling prior to that injury. A lot of it's confidence, a lot of it's opportunities. Matt did a great job attacking the middle of the field with Andrew."
Lacy also kept pounding away, rushing for 50 more yards after his long run to finish the game with 141. That kind of effort on a bum ankle will only add to the "credibility," to use McCarthy's word, that the rookie running back has in the locker room.
"Eddie was outstanding," McCarthy said. "He's a hell of a football player having a great year. I can't say enough about the way he's performed."
The Packers also got a strong performance from their special teams for the second straight week. Other than Davon House's penalty for interfering with a fair catch, the special teams had no glaring errors.
Rookie Micah Hyde's 26-yard punt return late in the third quarter, helped by a key block from tight end Ryan Taylor, set the offense up with a short field for a score, and kicker Mason Crosby was good by plenty on a 57-yard field goal early in the game.
"Anytime we're indoors like that with no weather conditions, he's plus-60. I thought he hit a very good ball and had quite a bit of distance left," Special Teams Coordinator Shawn Slocum said of Crosby, who also hit five of seven kickoffs for touchbacks.
"In pregame, he was striking the ball well, and I think he's just continued to get more and more confidence in how he's doing it. Yesterday was one of those days I think he could have made any reasonable kick that we tried."
The Packers didn't need Crosby for any more field goals, though, as the offense went 5-for-5 scoring touchdowns in the red zone – after not taking a snap within a dozen yards of the red zone the entire first half.
"Hopefully, I'm talking about this a month from now or so, but I think these types of games and these types of experiences that we've been through over the last five or six weeks are something you can definitely benefit from as a football team," McCarthy said.
"Our guys just kept battling." Additional coverage - Dec. 16