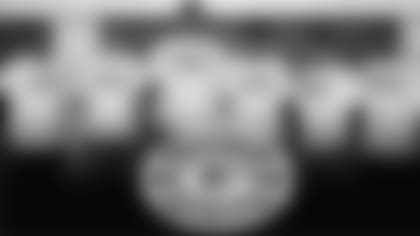 Pictured: (L-R) Adam Sticht, John Nuzum, Casey Brownell, Mike Olson, Troy Ingli, Mark Anderson
Not Pictured: Bryan Kilian
The Green Bay Packers have announced that Mike Olson of the Pepin/Alma Cooperative High School football program has been named the Green Bay Packers High School Coach of the Week.
Olson, in his 15th season as the head coach of the Pepin/Alma football program, led his team Friday to a 36-6 victory over No. 2-seed Potosi in Level 4 of the WIAA Football Playoffs. The victory improved Pepin/Alma's record to 13-0 on the season and gave the Eagles their first trip to compete for the WIAA Division 7 state championship in both schools' histories. The Eagles will now travel to Camp Randall Stadium in Madison to face Owen-Withee High School (12-1) on Thursday, Nov. 20 at 10 a.m.
"This group has made it to Level 3 each of the last two years," said Olson. "We had a goal to get to that next level and our kids did everything they could to accomplish their goal by working very hard in both the offseason and regular season. It's been a huge deal for our program, the communities and everyone involved."
A Pepin, Wis. native, Olson is a 1987 graduate of Pepin High School, where he played running back and linebacker under head coach, Rick Gould. Upon graduation, Olson attended the University of Wisconsin-River Falls, where he played linebacker under Wisconsin Football Coaches Association Hall of Fame Inductees Mike Farley and John O'Grady. Olson began his coaching career as the head coach for the Blooming Prairie Awesome Blossoms (Minn.) in 1992. After five seasons in Minnesota, he returned home and accepted an assistant coaching position for the Pepin/Alma football program before being promoted to head coach in 2000. He is also Pepin's middle and high school math teacher.
Olson and his staff oversee a program of 35 players. His assistant coaching staff includes Mark Anderson, Casey Browell, Troy Ingli, Bryan Kilian, John Nuzum and Adam Sticht.
Olson and his wife, Sherie, have a daughter, Addison, and a son, Evan.
About the Green Bay Packers High School Coach of the Week Program
The Packers will recognize one outstanding high school coach as their 'Coach of the Week' winner during the 2014 high school football season. Winners are awarded several items and privileges, including a $1,000 donation to the school's football program from the Green Bay Packers and the NFL, as well as recognition of the award on Packers.com, Wissports.net and Wifca.org.