Q. Most would say this has been a breakout season for you. Would you agree?
A. I would agree, being the fact that I've actually gotten playing time and made some plays. After that, it's better than other years when I had limited options to make plays, so I would say it's a breakout year, too.
Q. Did you feel it coming?
A. I don't really want to look at it that way. Each year I just really took it upon myself to try and get better at some things more than others. Sometimes other spots in other areas need to be taken care of before you can move on and try to take care of another part. So I took it year by year to try and get better, just get better at something, and I'm still trying to get better.
Q. What's it like being an undrafted player? Do you live with desperation?
A. Yeah, it's hard; everyone overlooks you. You already have little chance to none to get a shot. Financially it's not good either. It's hard all over. You just have to fight. Nothing is given to you in life and that's how I took it. You have to go out there and earn it.
Q. Are you looking forward to the day when you can sign a long-term contract and achieve financial security?
A. I feel like I'm still going to do what it takes. It's not just because I signed my name or nothing; nothing is going to change. It's the same attitude until I'm finished.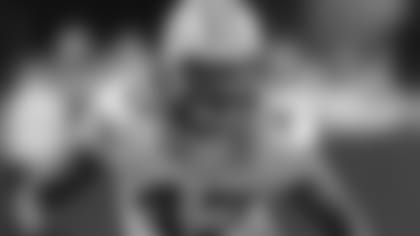 Lattimore was one of three non-drafted free agents
to make the club out of training camp in 2011
Q. How are you different today than you were as a rookie in 2011?
A. I'm smarter. I won't say tougher or faster, I'm just smarter. I'm still learning a lot, but I have learned a lot. It took from 2011 until now; I know a whole bunch. I came in with a lot of life skills from my college coach. He gave me a lot, taught me a lot, so it's just that I learned a lot from watching him and him teaching us. Making us be on time and be responsible for things and owning up to your mistakes. A lot of stuff that I learned early I learned here, too, all over again in a different way; be responsible, be on time, do the right thing, try not to mess up twice. Some people will mess up and don't care that they mess up. Make it your job to fix it. Urgency, know when to be urgent and know when you have to pull back. It's just life.
Q. What can you tell us about growing up in Miami?
A. Growing up, it was tough. I won't say every household has a million dollars; every household struggles. But for me, we had nothing; it was month to month, check to check, and it wasn't a working check, it was a check from the government. Growing up it was hard, eating the same old thing over and over, sometimes not eating. Violence in the area, just stuff you had to adapt to. You don't want to but you have to. Playing football, a lot of people think he has it made. I don't have it made. I worked for it. For the simple fact that people are like, well, he made it out, and stuff like that, people fail to realize that it's up to you if you want to stay up or down. If you come up with money, it's up to you to keep the money. If you have no money, it's up to you to make money or stay broke. Everything is a choice, and I chose to work.
Lattimore has started three games in 2013,
made two sacks on defense, blocked a punt,
and recovered an onside kick on special teams
Q. Why weren't you drafted?
A. I have no idea. I can't answer that. You get overlooked and that's why I'm making it my objective to let it be known. I'm not the biggest guy, I'm not the strongest guy, I'm not the fastest guy, but the skill set I have, I'm going to use it.
Q. If you could go back to the beginnings of your football career, what would you do differently? You played tight end and wide receiver in high school.
A. Nothing different. I like playing defense; I'm a defensive guy. I like to attack things and I like to hit. There's nothing fun about getting hit. Yeah, you might score touchdowns, but at my heart I'm not an offensive guy, I'm just a defensive guy. I like to play defense.
Q. What do you like about the Packers and Green Bay?
A. Packers is just a great organization. You have everything. What else do you want? Where else would you want to be or what else would you want to have? We have everything. Sometimes I feel like we might be spoiled, if you want to look at it that way. But we work hard. They give us everything, but we still work hard. We know how to balance the two, not just always, OK, we're getting a nice hot tub, or this and that. We're getting nice stuff so we have to keep working hard to keep getting things. Just like a child when you get good grades, you're going to get something good.
"Just because my beginning wasn't good doesn't mean that my ending has to be terrible. I'm going to make it good."
A. Growing up where I'm from, it's really slow, so it's hard for me to compare. Green Bay has its own nice things in its way. The weather, it's not always cold all the time. A lot of times it's nice. It might lack some food restaurants and stuff, but other than that the people are good and the weather is the changeup for me, but I like it. It's easy going. It's very laid-back and slow, so my alertness and awareness goes down. It's safe; you don't hear about crime. It's just easy going.
Q. What do you envision life will be like for you when you're done playing?
A. Good. Just because my beginning wasn't good doesn't mean that my ending has to be terrible. I'm going to make it good. I'm going to make it my business to make my life after football great. I think it's going to be great.
Q. What's your ultimate goal in football? A. My ultimate goal is respect. I don't care too much about the fame and stuff like that. Just respect. As long as a guy knows this guy can play, that's all I ask for.