Q. You're leading the Packers in sacks. Your thoughts?
A. It's just the result of my work in the offseason. I mean, I just had to keep pushing. It's definitely an accomplishment but that could change any week, so I just need to continue to press forward.
Q. What did you do in offseason?
A. I spent it really rehabbing my shoulder. I stayed out here and watched a lot of film, worked out and changed my diet. I can really see the improvements right now.
Q. How do you do it? Quickness? Strength?
A. Relentlessness, so it would be a combination of quickness and strength. Every attribute that you can think of that you would want to play with is something I try to apply to my game. I just think when you play with a motor or relentlessness, a never bending or breaking will, then eventually you'll break someone else's will.
Q. How much has your wrestling background helped you in football?
A. Very much. I'm comfortable being in close quarters kind of combat, hand fighting, working for inside control, so it's definitely helped out a lot.
Q. Did you learn to play with leverage from wrestling?
A. Of course, and it definitely makes it easier. Already being a little shorter than everybody else, I have that natural leverage and then playing with leverage on top of that makes it that much more difficult for people I'm playing against.
Q. How would you describe your attitude toward football?
A. I love the game. I just have a passion for the game; I love it. I'm blessed to be doing something I love to do. Whenever I'm on the field, I just try to leave it all on the field.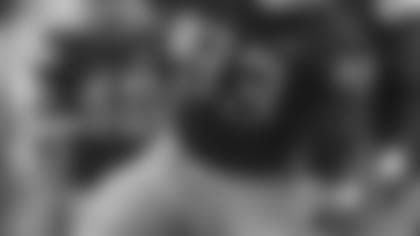 Daniels came to Green Bay as a 4th round
selection in the 2012 NFL Draft
Q. What has being too short cost you in your career?
A. Draft status. Honestly, if anything, I feel as though I gained a lot because the thing it cost me I feel has driven me to work even harder. I'm happy with how things happened. I'm grateful for being six foot because, like I said, it definitely has its advantages and already gives me a chip on my shoulder.
Q. Don't you think being short is a disadvantage?
A. Not at all. If you ask a 6-7 lineman who he hates to go against the most, it's a six-foot defensive lineman who is strong. Eventually, people will catch on. Josh Sitton told me his college coach used to make them sit in their squatted offensive lineman stance for a very long time when they were in college. They practiced squatting low. Well, if you're already low, then you're really giving yourself an advantage and giving them a disadvantage. If you can get up under somebody, that really helps a lot.
Q. What was your reaction when the Packers drafted you?
A. I was grateful, thankful that this is a team that didn't overlook me. They're the only team who I had a meeting with at the combine and they didn't hold my shoulder surgery against me and they didn't hold my height against me. Now I'm just trying to make them right.
Q. What do you remember from your interview with the Packers at the scouting combine?
A. I do remember Coach McCarthy, Ted, Coach Trgovac was in there, Rob Davis, and I think Russ Ball was in there. To me it went very well. I just remember Ted made a comment about how I played in the Oklahoma game. It was a positive comment. We played them in the Insight Bowl.
Q. What's the next level for you?
A. The sky is the limit. So I'm just going to keep pushing until I can't push anymore.
Q. What needs to happen on defense?
A. Everybody has to do exactly as I said, keep pushing until we can't push anymore and good things will happen.
"The sky is the limit. So I'm just going to keep pushing until I can't push anymore."
Q. You're going home this week. Your thoughts?
A. It's going to be fun; I still haven't decided who I'm giving my tickets to. Nobody has really been asking me for them; a lot of people came to the Baltimore game. A few of my family came out during some of the other games here in Green Bay. Nobody is really on my case about tickets. I'm looking forward to it; it's going to be fun.
Q. You played running back in high school?
A. Yes, I ran the ball in high school; those were fun times. I watch myself run and clearly see that I just had a defensive mentality because I was looking to run through people. I think I got more satisfaction running people over rather than scoring, which sounds weird, but I was definitely defensive minded.