Q. What was it like growing up in College Park, Ga.?A. It's a city area; guys are into sports. The main thing is my mom wanted to keep us in sports and out of trouble. You're proud of where you're from. College Park is a humble place. When you come home, guys don't treat you like you're an NFL player. They treat me like the same old Morgan Burnett. That's what keeps me humble. I appreciate that.
Q. Was there a turning point in your young life? Were you always a football star?A. I have an older brother, Cap Burnett; he's eight years older than me. I just wanted to do everything he did. He played sports, played football. My dad always had me play with older kids, just to get used to better competition. My dad always told me to compete. My mom always said just have fun with it. I went out to have fun and as soon as I started playing, around age six, I gained a love for the game. It was something I always wanted to do and my dream was to play in the NFL. I played baseball, football, basketball. If it was football season, you played football. If it was basketball season, you played basketball. My mom kept us active.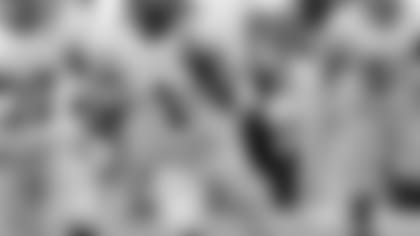 Morgan Burnett intercepts a pass
in a 2009 game for Georgia Tech
Q. Why did you pick Georgia Tech to attend?A. My school was small so we didn't really get publicity. I always felt like we were the underdog. That's the mentality I've had since high school and that's the mentality I have now. It's what keeps me humble. My older brother went to Georgia. I wanted to make my own name. The people at Georgia Tech were a family oriented group, like it is here.
Q. What were your thoughts when you were drafted by the Packers?A. You just thought of all the Packers tradition and history. It was an honor and a blessing because you grow up watching Green Bay. I don't care where you are in the nation, you're going to get the Packers on TV. Growing up, I was a Brett Favre fan. Just having the opportunity to step out onto Lambeau Field, words can't describe. You get that phone call and an unknown number pops up. It was a blessing knowing you're getting drafted out of so many athletes coming out of college. They drafted me. They chose me and I cherished that and I was excited about that.
Q. You won a starting job as a rookie, and then came the knee injury. Was it your first major injury? Did you struggle with it emotionally?A. That was my first major injury and the first time missing out on a season, cause when I went to college I didn't redshirt, I played right away. I came here, was thrown into the fire right away. In the second game of the season I caught an interception, so I'm starting to feel like I can do this, and then boom, I got hit with the knee injury. My family kept me lifted up and the guys here kept me in a positive mood and made me want to work harder.
Q. Where's your game now? How good are you and how good do you think you can become?A. I feel I'm maturing and growing as a player. My main goal is to get better each year as a player. I think I understand that at the safety position you have to be the commander and leader of the defense on the back end. I'm getting to the point that I'm having confidence in my checks; I'm loud and decisive. My main goal is to finish this game being known as one of the best to play the game. Am I there yet? Nowhere near; still have a long way to go. That's the positive part about it. Try to find ways to get better at something every day. I watch guys like Ed Reed and Troy Polamalu. I watch film of Nick Collins, Darren Sharper, LeRoy Butler. The main thing they have in common is they play with consistency, so my main goal is to try to play at a high level game in and game out. Just keep growing and improving.
Q. Was the Minnesota game last season your signature game as a pro?A. Yeah, that was a memorable game. Any time you get an interception you remember those games, and for me to get two, I was excited about that. My parents were in the crowd. That was fun. Darren Perry gave me the best advice and it's going to stick with me my whole career. Never get too high with the highs or too low with the lows. What I did in practice today, the next day I have to let go of that and move on. I challenge myself to be consistent game in and game out.
Q. You mention Brett Favre as one of your favorite players. What do you like about him?A. He had love for the game. He made plays. I just like watching guys like Brett Favre, Ed Reed, Troy Polamalu. You just see that passion they have for the game.
Q. The defense got a lot of criticism after the playoff loss in San Francisco. Are you eager to go back there?A. You're ready. You're excited about playing the 49ers because you know that's a good team over there. That's going to bring the best out in us. I feel like we have a close locker room in there. We have a great bond and it's going to be fun, so I'm eager to get back out there.
Q. What are your expectations for the defense this season?A. Be consistent, communicate at a high level, eliminate the big plays and overcome those adverse situations. That's what defines your defense; how you overcome those adverse situations. My main goal is to try to be a top defense in this league and dominate.
Q. How about for the team overall?A. Our main goal is to finish in New York, winning that Super Bowl trophy. You know there are going to be bumps in the road, but stay together as a team, overcome adversity and find ways to get wins, and find a way to bring that Lombardi Trophy back home.