Q. What's it like playing cornerback in a league that wants you to fail?
A. First of all, it's one of the toughest positions, other than quarterback; I think it's the next hardest position to play on the field. But we feel that it's the best athletes that play at that position, the best athletes on the field. You have to be able to back pedal, to plant, change direction just as fast as the guy who knows where he's going. I think that's a unique thing and it takes a unique talent to play that position.
Q. Are the pass-defense rules fair?
A. I don't think they've ever been fair, but it's one of those things you have to adjust to. Even with the rules now, even with the old rules, I think you still get some of these calls that they're calling. It's not fair but you just have to adjust to them.
Q. What are the high points and low points of your career?
A. Obviously, the highest point is the Super Bowl win. The lowest point is coming into next year with those same expectations for me personally, and I got hurt in the first game, so that was kind of a setback for me and I had to work back from that. It took a couple of years just for my injury to kind of heal. I felt like I was able to get through it and those things happen. Every player's career is going to have some form of adversity and that was one of them. That was one of my lows, just coming back the next year and getting injured. I had never been injured so that was new territory for me.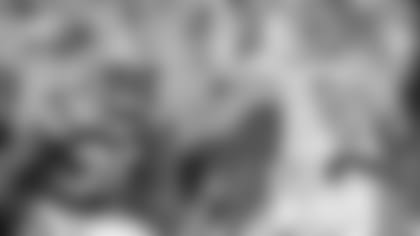 Williams faces off against
Lions WR Calvin Johnson in 2008
Q. Who's the toughest receiver to cover?
A. You can easily say Calvin (Johnson) right now. Anytime you see a guy playing in one-on-one the whole game, the guy seems like he's a stat sheet. He's just a big physical talent that not many guys have seen in this league, so I would definitely say Calvin. I have had good games against him and I think that's one of the perks you get when you play a guy twice a year; you get a chance to adjust to some of his tactics.
Q. The best quarterback you've faced?
A. Probably Brett (Favre) when he was in Minnesota. That was my first time really saying to myself, "This is what a great quarterback looks like across from you." That was my first time actually saying it. I had played Peyton (Manning) before; we had beaten Peyton. I had never played (Tom) Brady at that time, but that was my first time just saying to myself that is what a great quarterback is.
Q. What about your youth?
"if it ended today I feel I've done everything possible, but a lot of people say anything can be done once, let's see if you can do it twice."
A. I lived in a two-parent household, mother and father. They've been married for maybe 32 years now; anniversary is on Christmas. Both working parents, so I think that was a part of my foundation. I've actually worked about five or six jobs before I went to college. I started off working with my uncle on his farm; a lot of tractors and things like that. I would wash the tractors, cut the grass and help out. If he needed something welded, I helped him out. Then I started working at a grocery store; I think it was my sophomore year in high school. That next summer, I worked with my dad. He had a summer program at his job; he worked at a plant. I worked at the plant but I was still working at the supermarket so I would wake up in the morning and go to work with my dad and then go straight to my other job. I worked another job with contractors, renovations with buildings at LSU. I worked that a whole summer. I think (all of those jobs) gave me a focus to what I wanted to do and what I didn't want to do in life, and I knew I didn't want to do that my whole life, definitely. I think that's where I got my foundation. My mom always made me work for whatever I needed. If I wanted to talk on the telephone for a long time, my mom would tell me that I would have to pay a bill in this house then, so I would chip in and pay a telephone bill or a water bill. My mom came from a two-parent household. They didn't need it but wanted to teach us how life was going to be. I always respect that and love them for that.
Q. How would you describe your Packers career?
A. I would describe it so far as a really good career, coming from a free agent guy who didn't know what his future was going to be in the NFL, to making an impact and winning a Super Bowl and going to a Pro Bowl. I feel if my career was to end today I've done everything in this game that you really could do. Like I said, Super Bowl, Pro Bowl, had a really solid career so far and I think it's still growing. I'm still learning and hopefully I can stick in long enough to keep going.
Q. Where does the interception in Atlanta rank?
A. I think that it has to be ranked No.1 because at that point we were going to the Super Bowl, no doubt about it. We were going to win a Super Bowl and I don't think it was any doubt in anyone's mind from that point on that we were going to go to the Super Bowl. That was a big play. That's why I feel it has to go No. 1.
Q. What's it like playing with pain?
A. It's not fun, you have to adjust your game, but at the same time we don't make any excuses for it. It's a part of this league and you have to do it to stick around. We have a quote up saying, "Durability is better than ability." You have to stay healthy or find a way to stay on the field. That's why you see a lot of guys going out there and doing whatever it takes to stay on the field because if you stay off the field, you're forgotten, you get labeled as a guy who can't stay healthy throughout the year, or a guy who can't play throughout the season. It comes down to are you going to stay or are you going to go? That's some of the things that the guys going to look at. Guys have to find any way possible to stay on the field.
Williams and safeties coach Darren Perry
with the Super Bowl XLV trophy
Q. What will you do after football?
A. I'm going to definitely coach. I feel that I have great knowledge for coaching. I feel like I have a good feel for people, the way I interact with them. I think it's an ideal job for me, but I also feel I can do other things. I got my degree in computer information systems. I can go that route if I want to go with it. But I would rather stick to what I know and what I've been doing for a long time. I definitely know it's going to be fun doing that.
Q. What's left for you to do in your career?
A. Win another Super Bowl. Like I said, if it ended today I feel I've done everything possible, but a lot of people say anything can be done once, let's see if you can do it twice. I would like to win another Super Bowl with the guys we have. We have the talent here and you would hate to go out not knowing that you took advantage of all the opportunity and all the great guys that you played with.
Q. What's something we don't know about you?
A. Somebody asked me that. I don't think there's anything you guys don't know about me. What you see is what you get. That's who I am.