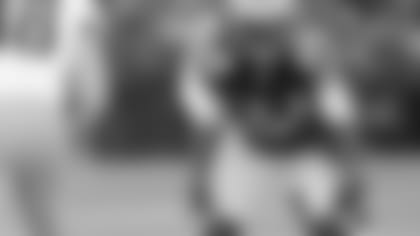 GREEN BAY—Of all the learning experiences for safety Jerron McMillian during his rookie season with the Packers, the most lasting may have been the realization that so much of the NFL game is played between the ears.
"People are smart out here playing this game," McMillian said during a break from his daily workout in the bowels of Lambeau Field. "It's like chess. It's more thinking and being in the right position, and knowing where you have to be to make the opposing team make mistakes."
McMillian was in the right place at times, such as when he snagged his first pro interception in Week 2 against the Bears. He was in the wrong spot occasionally, too, reacting a step slow in coverage to allow a long third-down conversion in Indianapolis in Week 5.
His ups and downs as a rookie were typical, and he's been using the offseason to process them all.
"It's really how smart you can play this game and how fast you can do it," he said. "It's who can outsmart who the quickest."
McMillian feels he'll definitely be a smarter player in his second season. In 2012, the fourth-round draft pick from Maine saw playing time in two different roles – in the slot as the dime defensive back and deep in centerfield as a traditional safety.
Reading and reacting to offenses from varying perspectives gave the small-school product a much-needed and valuable introduction to the pro level.
"Playing in the slot, I think I got better up close at the line, and that really helped me play the pass when I did get back deep," he said. "It kind of worked hand in hand. You get to see more things develop."
A solid rookie year for McMillian might have approached superb with a break here or there. After that interception against Chicago, he got another one the following week in Seattle that nearly made him a hero.
The Packers had rallied from seven points down to take a 12-7 lead midway through the fourth quarter when McMillian stepped in front of tight end Evan Moore and picked off quarterback Russell Wilson's throw along the far sideline at the Seattle 26. A questionable roughing-the-passer penalty on Erik Walden nullified the turnover and potential game-clinching scoring opportunity, though, leading to the well-known, final-play fiasco minutes later.
Less dramatically, McMillian nearly had another interception in Week 14 against Detroit, but replays showed his diving attempt didn't keep the ball from grazing the ground.
Moments like those showed McMillian's nose for the ball (his 13 passes defensed on the season tied Morgan Burnett for most among the team's safeties), but that promise was coupled with the frustration of not finishing the play.
"I can't give them the opportunity to make the call," he said of the close shaves. "I have to make sure I catch everything that comes and make the best out of the opportunity.
"I had a few that went different ways, but I can't leave it in anybody else's hands but mine, and I have to take advantage of that this upcoming season."
The opportunity in front of McMillian is enormous. With Charles Woodson gone, the Packers are looking for a full-time starter at safety alongside Burnett.
As of this moment, McMillian and M.D. Jennings, who shared time last season when Woodson was injured, top the list of candidates, but the 2013 draft class is deep at safety, so another contender could soon arrive. An undrafted rookie from last year, Sean Richardson, may be in the mix as well, provided he returns healthy from a neck injury.
"It's going to be real competitive, and it's all about competition," McMillian said. "The more you compete, the better off you'll be. Bringing it out of each other will help you be a better player."
McMillian is counting on being a smarter one, too.
"I know the game a little bit more," he said. "I watch film every day. Taking that jump from the rookie year to the second year is a big step, and I'm trying to take every step I can.
"It's something I'm ready to do."