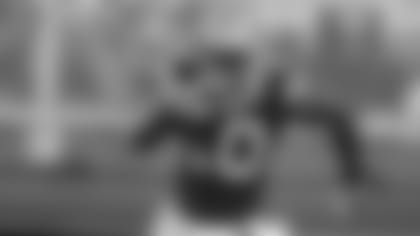 WR/KR/PR Jeremy Ross
GREEN BAY—Wide receivers Jeremy Ross and Tyrone Walker are expected to be under the "microscope" when the Packers play the Rams on Saturday night in St. Louis.
For Walker, it'll be a chance to strengthen his pursuit of a roster spot. For Ross, the opportunity on Saturday will likely include a chance to become the Packers' lead return man.
"With everything we do in practice, we'll have plenty of information on the ability of our returners to catch the ball and secure the ball after the catch," Special Teams Coordinator Shawn Slocum said of a door to the kick-return position that might've swung open recently when Randall Cobb sustained a bicep injury. Cobb has battled the painful injury during practice and Head Coach Mike McCarthy said that will likely be a long-term proposition for the Packers' star return man and wide receiver.
Ross flashed his return ability late last season. It won McCarthy's trust, but then Ross betrayed that trust by committing a costly fumble deep in Packers territory in the playoff loss in San Francisco.
Which player is he, the one that makes plays, or the one that commits head-scratching mistakes? Ross can help deepen his coach's trust with an error-free performance in St. Louis.
"He has to get to the point that you can count on him every single down," McCarthy said.
Walker is the latest in a seemingly endless list of Packers undrafted wide receivers that leap to prominence in training camp every summer. Two years ago, it was Diondre Borel and Tori Gurley. Last year, it was Jarrett Boykin. This year, the 5-10, 191-pound Walker, from Illinois State, is threatening to come out of nowhere and win a roster spot.
"You see a guy in steady growth who continues to get better. There are no dips," Wide Receivers Coach Edgar Bennett said of Walker, who led the Packers in receiving with five catches for 41 yards in the 17-0 loss to the Cardinals last Friday.
The battle for the starting right tackle job is expected to be featured in Saturday's game. Don Barclay appears to have drawn even with Marshall Newhouse, who began training camp as the starting right tackle after consecutive seasons as the Packers' starting left tackle. Barclay replaced Bryan Bulaga at right tackle in the second half of last season, after Bulaga was lost to a hip injury.
"You'd like to have it set so there's enough time for those guys to play together," Offensive Coordinator Tom Clements said of settling on a starter at right tackle.
Second-round draft choice Eddie Lacy is expected to return to action after having missed last Friday's game with a hamstring injury. The rookie running back returned to practice this week and displayed his powerful running style in half-line drills on Wednesday. Backup quarterback?
Graham Harrell had a rough outing against the Cardinals and needs to play better this week. It's possible newly acquired veteran Vince Young has become Harrell's top challenger for the backup job.
"I think he's more comfortable. He's moving around better because he's more sure of himself. He's made strides," Clements said of Young.
The kicking competition between Mason Crosby and Giorgio Tavecchio did not happen as expected last Friday; neither kicker was afforded a field goal opportunity. They each had 18 attempts in practice this week; Crosby made 17, Tavecchio converted all 18.
"They were very solid this week," Slocum said of his two kickers. "We have to get as many reps as we can for the evaluation process."
"Create opportunity and get our quality of play to rise," McCarthy said of his responsibility. "(The players) have to make it clear who the starters are. It's not up to me."
For a list of all the headlines from the past week of training camp, click here.